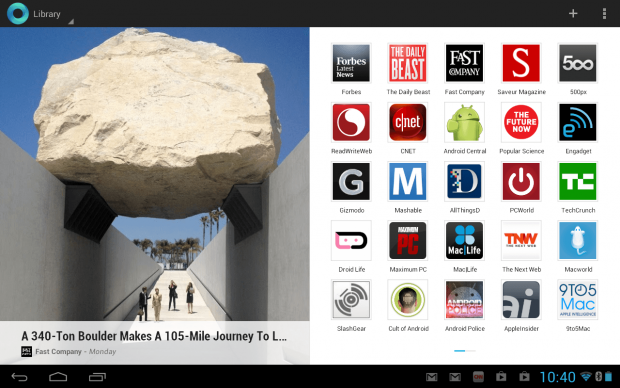 I've been using Google Currents ever since it came out because I happen to read the news quite a bit on my phone and tablet, like many other people out there. I really wasn't that happy with other news apps at the time, but when Google Currents came out, things changed big time. If you read news on your Android device, then you're going to want this app. (Google Currents is also available for iOS, for those iDevice owners out there.)
What is it and what does it do
Main Functionality
Google Currents allows you to read news from a large selection of news sources. There are many differences sources for everyone, and you can even import sources from Google Reader. As you would with most other Google products, you sign in when you first start using the app, so you can sync your news across all your devices. (It doesn't matter if that second device is running Android or iOS.)
Pros
Offline access, i.e. you can sync every article from every news source you have added without an active internet connection, as long as you had an active internet connection when you loaded the source
Has a large selection of news sources
Users can add their own news sources via Google Reader
You can not only read news from websites but also magazines
Simple and clean interface that is easy to understand and navigate
Fast
Cons
Some publishers have very limited content
If you import sources from Google Reader that aren't a source Google has added to Currents, you only get a preview of the article you are trying to read — you have to navigate to the full web page to view the full article
Can be prone to crashing at times
Discussion
Google Currents is meant for news, and it does a great job of that. The interface (which in some cases can be a major drawback of some apps) of Google Currents is very simple, and really makes sense. I was a big fan of the interface from day one. The thumbnails and text are put together in such a way that reading is a pleasure.
Performance is also something that can make or break an app. In this case, Google Currents is very speedy — it usually loads articles quickly (although it will vary from device to device depending on connection speed) — and can sync articles for offline reading, assuming you have a relatively not-slow internet connection and aren't syncing pictures, pretty quickly. The only issue performance wise is the fact that is can randomly crash at times, which could be caused by a combination of things. This issue has gotten better with very update, but still occurs from time to time.
As I mentioned earlier  Google Currents has a very large selection of sources that you can pick. Adding a source to your personal reading list is as easy as tapping on the magnifying glass that is in the bottom right corner and searching for the source you are trying to add. Alternatively, you can select library and look through the sources that are categorized.
If Google Currents doesn't have a new sources you are looking for, you can add your own custom sources by syncing with your Google Reader account.
Even though this is a great app, it isn't perfect. The biggest issue I have is some sources have very limited content, in my opinion, mainly just asking you to visit their website to read the rest. The same happens when you import sources from Google Reader. If some of the sources you have in your Reader account aren't sources in Currents, then once again you receive limited content. In that case, you would have to visit the website to read the entire article. This isn't too big of an issue when you have access to the Internet but can be annoying when doing offline reading.
Conclusion and download link
Google Currents is something I feel you need on your device if you read news — from websites, blogs, etc. — on your phone or tablet. Currents is a very good, solid, and fast app; its clean simple interface isn't going to frustrate anyone, anytime soon either. It does have some bugs, but they really aren't that bad so they shouldn't bother much.
For the most part, the content from the news sources in Currents is very rich, and the same articles you would read on respective websites, but, in some cases, you may only get to read part of an article and have to read the rest on the full website. This could be a very big issue if you were reading the article offline (which is a problem that I did run into, and believe me, I wasn't too happy about it). Overall,. though, Google Currents is very nice.
Price: Free
Version reviewed: 1.5.1
Requires: Android 2.2 or higher
Download size: 5.2 MB
Related Posts