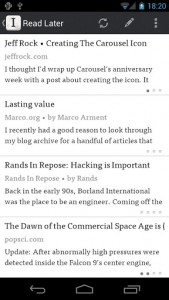 Instapaper is an app that will let you save webpages you come across for reading later. This app can be very useful if you are constantly browsing through multiple pages. It can also be great if you don't like a webpage enough to bookmark it.
What is it and what does it do
Main Functionality
Instapaper's core functionality is to make the past webpages that you've enjoyed only a couple clicks away. It is primarily designed to make sure you can access your favorite pages whenever you need them, regardless of your connectivity.
Pros
Save any website for viewing later
Offline Support
Text only versions
Minimalist design
Customization
Store unlimited articles on Instapaper website
Cons
No instructions
Minor bugs
Discussion
Instapaper is a remarkably simple application that only aims to do one thing, save your browsed content. Instapaper can save any webpage that you come across and want to save for later. The best part is Instapaper can save them as a text format so you don't have to worry about confusing layouts that you don't need. It also makes the application great for saving articles or blogs.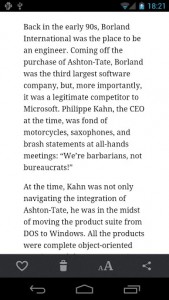 What's great about the actual page saving is that Instapaper can save the content offline. This means that you will always have access to your saved pages so you don't ever have to worry about being away from your content. Instapaper does all this while adhering to a minimalist design. This creates no distractions so you can enjoy your content more.
Additionally, Instapaper is highly customizable. You can change the interfaces you interact with most like fonts, text sizes, line spacings, and margins. Another fantastic aspect is that you can literally store unlimited websites on Instapaper's servers and up to 500 in your local storage. This is great because as long as you have a data connection, you get access to all of your content.
Conclusion and download link
There are very few negative aspects of this app. While it can be somewhat buggy and lacks a guide or tutorial, it is a really pleasure to use. After using this app for some time, you begin to realize that its much more efficient and organized than any other bookmarking system.
Price: $2.99
Version reviewed: 1.1.2
Requires: Android 2.2 and up
Download size: 3mb
Related Posts