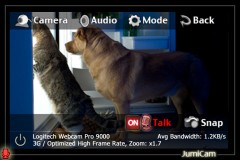 Have you ever been out for any reason and just wanted to see if everything was okay at home? Maybe you left your kids with a babysitter in order to get out for a night. Or maybe you want to see if your pets are okay. The easy solution is JumiCam Webcam streamer, a convenient remote monitoring app.
What is it and what does it do
Main Functionality
JumiCam is remote monitoring system that connects to any of your computers' webcams.
Pros
Easy connection to network webcams (after downloading companion software)
Allows access over 3G/4G (manually or using Google Account)
Can monitor unlimited cameras
Excellent high definition feed (options for quality provided)
Talk through your computer and listen as well (bi-directional audio)
Snapshots go right into your camera roll
Option for encrypted feed
Cons
Discussion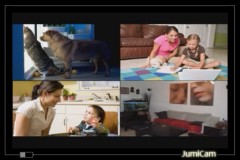 A couple months ago, I was going through some apps that had gone free for the day and came across JumiCam. I had tried a handful of other apps in the remote monitoring genre that turned out to be decent, but they always seemed to come up short in some area. So I figured that I would try out JumiCam while it was free and I am quite glad I did.
Much like any app with remote access, some type of software must be downloaded on your machine. You can get JumiCam's here. After downloading and running the companion software on your computer, it will allow you to enter a master password that will be used for any remote connection. Now open JumiCam on your iPhone while in your home network and it will automatically detect any computer or web camera running the software. You just have to select your computer from the list and enter the master password to access your camera.
The camera feed itself is excellent as you have several options for quality, including high definition. The image is crystal clear. The only cases in which you wouldn't use HD is if your connection is lagging badly, but I have not had an issue with that. If you touch the screen during the live camera feed, you have the option of turning audio on (i.e. listening to what the camera hears), as well as holding down the Talk button in order to talk through the computer's speakers. I was quite impressed by this feature, because it worked much better than I thought it would. You can also take a quick snapshot that automatically is sent to your iPhone's camera roll.
Be aware that the only connection issue that might arise is from outside the network (i.e. from 3G/4G connections). The easiest way to connect is using your Google credentials. You first log-in using the "g" button in your JumiController companion software, then when you log-in in JumiCam, your computer should appear. If it doesn't, then there might be some more work to do. The companion software is supposed to allow JumiCam through your firewall and router, but as you know, sometimes computers don't do what you want them to. I personally just add my computer manually and make sure to use a DNS server (i.e. no-ip.org) as my external IP address. I do this, because cable companies will change your IP whenever they want. The DNS address automatically updates to what my external IP address is at the current time. It is worth noting that I had no problems getting in with Google credentials or manually with an external IP address.
Conclusion and download link
After trying several remote monitoring options on my iPhone, JumiCam is my go-to app for checking in on my home and office. It is easy to use and has all the features you would want.
Price: $4.99 (Lite version available for free)

Download size: 11.6 MB

Requires: iPhone/iPod Touch/iPad; iOS 3.2 and up

 JumiCam Webcam streamer on iTunes
Related Posts