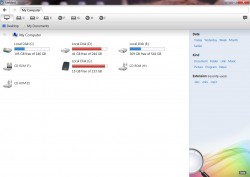 There are a number of free file management programs available that improve upon native Windows Explorer functionality. However majority of the programs come with a large number of options that can be confusing for novice users. For those who want a simple way to manager their files but are not happy with Windows Explorer, FileMind is an effective option.
WHAT IS IT AND WHAT DOES IT DO
Main Functionality
FileMind is a free file management utility that helps you manage your files effectively. The biggest attraction to FileMind is that it is easy-to-use and allows users to quickly find files and folders thanks to a mix of built-in search engine (does index), advanced filtering (e.g. EyeCatch), and Insanely Fast Launch Bar features.
Pros
Simple interface that will be easily understood by novice users
Built-in search engine speeds up the time to find files
EyeCatch feature allows you to filter files based on extensions
Find files on-the-fly when users simply typing some letters in the Insanely Fast Launch Bar
Encrypts its database
Cons
Not many search options
Insanely Fast Launch Bar is not exactly fast or accurate (acknowledged by the developers)
Program is still in beta
No multiple panes
No tabs
Discussion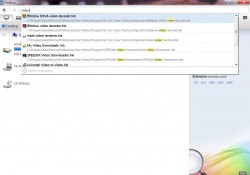 FileMind sports a very simple user interface with all of the options being displayed clearly on the right hand side of the program. The interface closely resembles internet browsers such as Firefox or Chrome, with quick links to My Computer and removable and non-removable drives. Below the quick access links, there is a bookmark bar which can be used to bookmark files or folders locations — similar to the feature available with browsers. To bookmark a file, simply drag and drop it on the bookmark bar or bookmark the location of the file by clicking on the 'star' at the extreme right of the address bar.
One of the important features of the program is the ability to search for files directly from the "Insanely Fast Launch Bar", again similar to the browsers. Just type in the file name, or a few letters if you don't remember the whole name, and the program will start displaying related files and folders that match the string entered into the launch bar. While the launch bar is touted to be "insanely fast", it does take some time to find the related files and the search results are not too accurate. This, however, is recognized by the developers and they pledge to improve it with updates:
Beta 0.6 is NOT YET optimized for speed (application startup time, Launch Bar). For future releases we are planning on displaying Launch Bar results as fast as your web browser does (3 seconds or less).
One major attraction to FileMind is "EyeCatch". This feature allows you to quickly search for files by clicking on the most recently used extensions. You can use the feature by selecting the Date and Kind of the file that you require. Once you are presented with the most recently used extensions based on the kind of file, you can further filter the results by selecting the required extension. Pretty useful for fast filtering.
The biggest downside to FileMind is that it is a bit too simple. For example, FileMind has no support for multiple panes or tabs. However, the developer recognizes that FileMind may not have all the features everyone desires yet, but they do pledge on adding more in the future:
Beta 0.6 is not feature complete! We are implementing new functionality every day. Want to see / vote on features or have suggestions? Please visit our Idea Board.
Conclusions and Download Link
FileMind is still in beta and has its fair share of issues, namely with the Insanely Fast Launch Bar. However, it is already proving to be a very useful tool for those who want a file management utility is better than Windows Explorer but do not want a program that overwhelms them with too many options. Even if you feel FileMind isn't worth getting it in its current form, this is one you should keep an eye on.
Price: Free
Version Reviewed: v0.6.6.482 (beta)
Supported OS: Windows Vista/7/8
Download Size: 9.7MB
VirusTotal Malware Scan Results: 0/44
Portability: Not portable, requires installation
Related Posts