Do you love to read comics and mangas on your computer? Do you know what .CBZ and .CBR files are? If you said yes to any of these questions, then, chances are, ComicRack is a program for you. Basically, if you have a growing collection of comics on your computer and you need a better way to read and organize them, ComicRack can help.
WHAT IS IT AND WHAT DOES IT DO
Main Functionality
The main purpose of ComicRack is to let you view comics and mangas you have stored on your computer. It is feature-rich, so you can view and setup your viewing experience however you see fit. However, ComicRack goes beyond that — it also helps you organize your collection by allowing you to create different libraries and use filtered lists.
Pros
Can read many different file formats popular with both comics and mangas (including .CBZ and .CBR files)
ComicRack can read compressed files, so no need to unzip
Helps you organize your collection with libraries and filtered lists
Supported by a huge community
Many different features that allow you to read and view your comics and mangas the way you want
Cons
All the features and options can be confusing at first, and finding the option you are looking for may take some "digging" due to the sheer number of options available to you
Discussion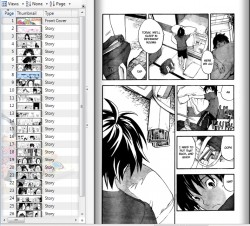 Keeping a virtual collection of your mangas and comics is a great idea. However, sometimes viewing them on a computer is not as much fun as reading the actual thing. The good news is, there are programs out there that can help make the experience more enjoyable. ComicRack just so happens to be one of those programs.
There are a number of great things about ComicRack, but I am going to start off with the best part first. The program is free! Yeah, there are a lot of other free comic viewers out there, but very few of them offer as many features as ComicRack does. The ones that do come with a lot of features, usually come with an equally high price tag.
Installing ComicRack takes just a few minutes. Once finished, you can start reading your comics right away. However, I recommend messing around with some of the features first. After all, one of the most impressive things about the software is all of the options it gives you. You can change the size of each page, whether you want to flip pages right-to-left or left-to-right (important for all you manga fans out there), what buttons you want to use to flip your pages, and so on
Of course, it is all of these options that can also cause problems for some people. There are so many features that it can feel overwhelming the first time you use it. Also, if you are looking for a certain option, finding it could take some work. In short, sometimes too much of a good thing is bad.
ComicRack does go above and beyond its call of duty by offering you a great way to organize your collections as well. You can separate all of your comics and mangas into different libraries, and even put them in filtered lists if you choose. That is the beauty of this program after all, you get to set up your comic "rack" any way you want.
Keep in mind, ComicRack is run by one man. He is not some big organization. So while his program offers that personal touch, getting support for it is another thing altogether. He has put together some good guides for the program, but they fall short from being able to answer all of your questions. Visiting the program's wiki page or its online forum (which is supported by some very enthusiastic users) is your best bet when looking for help.
CONCLUSION AND DOWNLOAD LINK
If you're looking for a feature-rich comic viewer that doesn't have a hearty price tag, ComicRack is for you. As a whole, the program is easy to use and supports just about every file format that comics come in. However, it can get kind of confusing when you start going through all of the features it offers because there are so many. Still, though, if you have tried other comic viewers that just don't cut it, then ComicRack may be worth a look.
Price: Free
Version reviewed: v0.9.156
Supported OS: Windows XP / Vista / 7
Download size: 11MB
VirusTotal malware scan results: 0/44
Is it portable? No (Although there is an Android version available)
Related Posts