Do you have trouble visualizing what a 2D layout will look like in real life? If so, then Sweet Home 3D might be just what you need. The overall idea is pretty simple, but the results can be extremely helpful for someone who needs help visualizing a room in 3D.
WHAT IS IT AND WHAT DOES IT DO
Main Functionality
Sweet Home 3D is used to turn a 2D layout of a room into a 3D model. Yes, the idea behind it is rather simple, but it can be a lifesaver for people who simply do not do well imagining things. This little program gives you a sneak peek of what your room will look like before you even start remodeling.
Pros
Many features to help create a look-a-like room
All items can be adjusted to their actual size
Virtual Visit option allows you to take a walk through the homes and rooms you create
Cons
Offers Linkury Community Smartbar during installation (simply uncheck box to avoid installing)
Despite its easy-to-use drag and drop feature, placing items will still take some patience
Discussion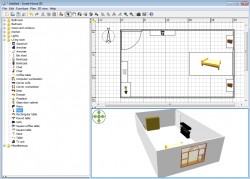 I have never been one that can visualize what a room will look like until after it has been remodeled. I can get a much better "feel" of things if I can see it in 3D. That is where Sweet Home 3D comes it. This is a program that you can use before you even start rearranging or remodeling your home.
Installing the program is fairly quick and hassle free. However, it does offer you the Linkury Community Smartbar during this process. Thankfully this is easy to avoid by simply unchecking the box for the toolbar during installation.
From there, you are free to create the house or room you want to remodel. The interface is actually easy to use, but it can come across as confusing at first. This is because they just kind of dump you into it. However, after playing around with the buttons for a bit, you will be able to create a look-a-like room in no time.
There is a toolbar at the top that you can use to create the walls to your room or house. On the left side of the program, you will see a file tree with different rooms. When you click on a room, it will offer you a bunch of different items that you would typically find in these rooms. Everything from fish tanks to TV sets can be found here. After finding the item you want, simply right click it and select "add to room". Then this item will be virtually added to the room, and you can adjust the size and placement of the item from there.
The upper section of the screen features your 2D layout of the room. This is the screen you use to add things to your room. On the lower section of the screen you can see the 3D view of your room as you put things together. If viewing your home in 3D is not enough, you can select to do a Virtual Visit that takes you on a first-person tour of your new house/room.
CONCLUSION AND DOWNLOAD LINK
Overall, the program is fairly impressive for being free. It is also great to see a 3D view of your room or house before you break your back moving furniture around. The best thing about the program, however, is seeing how everything fits together. Since you can adjust the size of every item you put in your virtual house, you can get a great idea if certain furniture will actually fit together or not. The controls can be a bit clunky at times, but nothing that should keep you from making a virtual room. The 3D Virtual Visit was also a nice surprising feature considering it was a free program. This is clearly a niche program, but for the people who need it, Sweet Home 3D will get the job done.
Price: Free
Version reviewed: 3.6
Supported OS: Windows 98 / 2000 / XP / Vista / 7
Download size: 31MB
VirusTotal malware scan results: 1/40
Is it portable? No
Related Posts