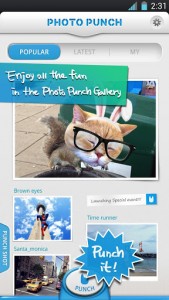 Photo Punch is a unique application that will allow you to cut out certain parts of your pictures you use for other purposes. This app is great for those who like editing photos and seeing what other creative aspects can be done with one simple picture.
What is it and what does it do
Main Functionality
Photo Punch is designed to allow you to use a part of one photo to create something entirely different. It is designed to make you relive your memories in a more unique and exciting way.
Pros
Cut out exactly what you want from an image
Save punch outs as Punchshots
Use pre-loaded or custom backgrounds
Use filters and boarders to embellish photos
Select from a wide variety of stickers
Use gallery for social features
Cons
Cannot make fine adjustments
Limited background selection
Somewhat buggy
Discussion
Photo Punch is an app that will allow you to cut out a specific portion of the an image so that you can use it for other pictures. This can be incredibly fun as you can cut out specific people or objects in order to create funny cartoons or other creations. While this is great, you unfortunately can not finely define the lines in which you want to cut. It is more of a general punching. However, you can create a convenient gallery of your punches in case you want to use them later.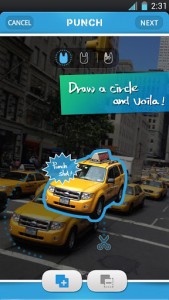 Additionally, Photo Punch has unique add-ons to help embellish your creations. Once you've punched out a portion of an image, you can add it onto a pre-loaded background or upload a custom one from your personal collection. You can also change the look and feel of the creation by using filters and boarders on your final image. Photo Punch also has a library of stickers that fall into all sorts of categories. These will really help spice up your creations.
Additionally, Photo Punch does have some social connectivity. You can add your creations to a gallery for others to view. You can also browse other users creations. This can be very fun as their is literally no limit to the types of creations that can be achieved and shared.
While Photo Punch is a great app, there are a couple downsides. For starters, this app in its current state is incredibly buggy. It is sometimes so bad that it makes the app unusable. Also, the background selection is not really up to par with backgrounds that you might expect. Fixing the instability and adding an extensive background selection might really help make this application take off.
Conclusion and download link
Overall, the app does its job fairly well. However, the fact that you cannot finely select lines combined with the severe instability makes it hard to recommend this application in its current state. However, the good news is that this app can easily be fixed with a few updates. So if you think you might enjoy the functionality, be sure to keep an eye on the development as this app as quite a bit of potential.
Price: Free
Version reviewed: 1.2
Requires: Android 2.2 and up
Download size: 9mb
Related Posts