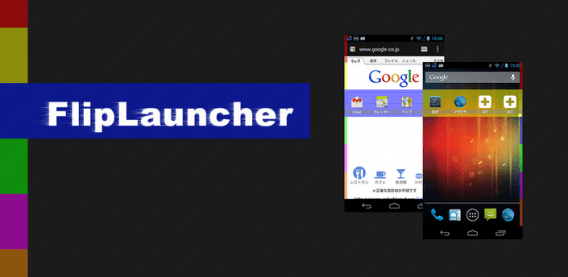 Sometime you just need to switch to another app, immediately, and there's just not enough room on your home screen to put every last app you might need in a day. There are already plenty of features in place help deal with this, such as multiple home screens, fast app switching, and the advancements in the notification center. None of those features quite make your favorite apps as accessible as FlipLauncher, a handy app from developer AndCreate.
WHAT IS IT AND WHAT DOES IT DO
Main Functionality
FlipLauncher provides easy access to up to 24 apps simply by swiping your finger across the screen from certain points on the side of your device's screen. Users can either leave the color-coded bars along the side of their screen as indicators for the hotspots, provided they don't find it too distracting, or they can have the colors go transparent and simply remember where the hotspots are located. You have up to 6 individual flippers to use, each highlighted by a color of your choice, which slide across the screen with the flick of your finger and provide you access to 4 apps per flipper. You can easily organize these flippers as you would a home screen folder, placing similar apps in sliders together, or simply grouping them by how often you need access to them.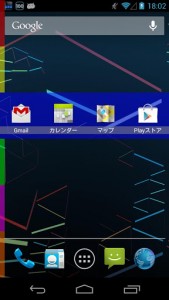 How is this more convenient than simply going back to the home screen? Simply put, it's the unparalleled access you have to all of your favorite apps regardless of what you are doing currently. No matter what application or game you currently have open, you can simply hold your finger in the designated color and swipe across for instant access to the apps you put in each flipper. It's not just apps either, you can also place web shortcuts in the flippers, providing a handy organization tool for you to organize frequently visited websites.
Pros
Easy access to your most important apps from any screen
Supports color coding and easy organization
Excellent touch recognition
Easy slide to open/slide to close functionality
Cons
You may often find yourself accidentally opening a flipper
Flippers do not close automatically after launch an app from them
Ad-supported (ads are on the settings screen, not the flippers)
Discussion
Upon opening FlipLauncher you are greeted with a setup screen consisting of several "flipper" numbers, on/off switches, side selections, and color designations. Below the setup section for the flippers you are presented with additional options such as setting transparency, opacity, and width of the color bar. There are 6 flippers in total, and the options for adjusting them are simple and user friendly. Although there is little on-screen text to guide you when you first open the app, it becomes apparent very quickly how you should make your desired changes.
Tapping the "ON" button next to a flipper number will turn that flipper off, and vice-versa when you touch the "OFF" button after it changes. The next option allows you to select which side that particular flipper will appear from when swiped. You can leave all flippers on the same side, or alternate them in whatever pattern best suits your user style. The final selection in the flipper section is color based, allowing you to choose the colors you prefer. This is particularly important for individuals with certain types of color-blindness or other visual impairments that require them to choose from a limited color selection.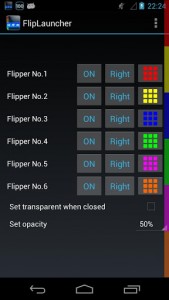 Below the flipper options you can make additional settings adjustments. Checking the box for "Reside in the status bar" will leave the control option in your status bar at all times, giving you easy access to make adjustments or to turn off the flippers completely. Farther down you have the option to make the color bar transparent, which may make accessing your flippers a bit more difficult, but overall leaves a much more pleasant aesthetic appeal as the color bar may be a nuisance on the side of your screen. If you prefer to leave the color bar on the side of the screen at all times you can still make adjustments to opacity, raising and lowering to find the perfect fit for your device.
The final option is the width of the color bar, which is important for determining how easy it is to access the flippers. The wider the bar the easier it is to access, however you may find yourself accidentally opening sliders with a wider bar. On the other hand, if you leave the color bar too small you will often switch screen or make erroneous selections when you intended to open a flipper. Finding the perfect balance is a bit of a challenge, and if you're not careful to find just the right balance for yourself quickly after installing this app you may find yourself very frustrated.
CONCLUSION AND DOWNLOAD LINK
FlipLauncher is a great concept, and overall it's a fairly polished product. It is a free app, so don't be surprised when you see the ads on the settings screen, but they never cause a disturbance or hinder your ability to make changes. Easy access to apps from any screen may sound trivial, but when you're on your phone all the time it can make a world of difference.
Initially getting the flippers to open can certainly be a chore, and getting the right balance of opacity and width is a bit time consuming. However, once you get used to the app, these are minor issues you won't even remember. Don't be afraid to spend the time making sure you get it right though, or you will find yourself ready to uninstall the app after just a few hours of use.
Overall, FlipLauncher is a great pick-up; give it a day and then come back if you don't find yourself switching between apps faster than ever before.
Price: Free
Version Reviewed: 1.2.34
Requires: Android 2.1 or higher
Download size: 539k
Related Posts