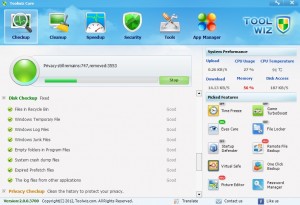 There are a lot of "cleaning" or "optimization" programs out there for your computer. Most of them claim to find tons of things wrong with your computer, fix a few, and then tell you to pay to fix the rest. That is not the case with ToolWiz Care. This is a 100% free program that comes with tons of built-in utilities that can help give your computer the edge it may have lost since you first purchased it.
WHAT IS IT AND WHAT DOES IT DO
Main Functionality
ToolWiz Care is an all-in-one program that aims to not only help you make your computer run like new again (or as close as possible) but also help you backup files, manage passwords, and more. It does this by giving you access to more than 50 utilities that you can use, utilities that range from junk file cleaning to a password manager to a defragger to a startup manager and everything in between. The best thing about Tool Wiz Care is it is 100% free. Not only does it clean your PC for free, but the company offers free tech support as well which is something you rarely, if ever, find with freewares. ToolWiz Care really goes above and beyond what most other computer cleaning programs offer — even more than some paid ones.
Pros
Offers tons of utilities to clean, optimize, tweak, and manager your computer
Easy interface makes it perfect for computer users of all skill types
Optional floating widget gives you system information (temperature, memory usage, etc.) and always stays in the front of what you have running (can be closed by right-clicking and unchecking floating toolbar setting)
Offers other tools that go beyond PC management, like a picture editor, eye care, and more
Can choose to install or run without installation (i.e. is portable)
Works with Windows 8
Offers free dedicated tech support (24/7)
Cons
Tends to be a bit resource heavy when running a scan (I was still able to do other things but could notice a slight slowdown; no problems when scan was not running)
Scan time was on the slow side
Some of the tools offered are lackluster ("jack of all trades but master of none"), e.g. the Privacy Cleaner supports Internet Explorer, Firefox, and Chrome but not Opera, the Uninstaller is basic, and File Recovery is more undeletion than recovery
Discussion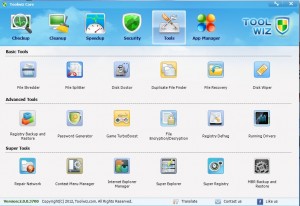 There are a lot of "do it all" cleaning or optimizing programs out there. However, most of them show you tons of things wrong with your computer, and then make you pay for an upgraded version to fix it. (Although there are plenty of quality freeware cleaning programs, too, such as CCleaner.) That is not the case with ToolWiz Care. This is a program that offers tons of different utilities that you can use to make sure your computer is running in tip-top shape.
In total ToolWiz Care comes with over 50 utilities — far too many utilities to go through all of them. However, here is a small list of some of the more interesting tools that ToolWiz Care offers:
Context Menu Manager (aka remove entries from Windows Explorer's right-click context menu — similar to what Right Click Enhancer does)
Time Freeze (aka remove all changes made to computer upon reboot — the same thing that ToolWiz Time Freeze does)
Eye Care (aka force you to rest your eyes after a certain amount of time on your computer, similar to what xTheEye does)
Game TurboBooster (aka shutdown unnecessary background programs and processes while gaming or other full-screen, resource intensive tasks — similar to what Wise Game Booster does)
Remote File Backup (aka access the files and folders that are on a computer connected to the same network as your computer; you can download/backup those files to your computer)
Disk Cleaner (aka clean junk files, temporary files, and more — similar to what CCleaner does)
File Recovery (aka undelete deleted files; this is not file recovery but rather undeletion — you can only reaccess what is still available via your file table)
Picture Editor (aka a photo editor that is more advanced than Microsoft Paint but not as professional as Photoshop)
Privacy Cleaner (aka clean internet browsing history, cookies, etc. — similar to what CCleaner does)
Virtual Safe (aka store files in an encrypted "safe" which cannot be access without your password — similar to what TrueCrypt does)
File Locker (aka block access to files or folders; this is not encryption)
Startup Defender (aka notifies you when a new process or program has been added to your startup — similar to what WinPatrol does)
File Encryption/Decryption (aka encrypt individual files — similar to what AxCrypt does)
Startup Report (aka measure how long it takes for your computer to boot, and why)
Startup Optimizer (aka enable/disable or delay programs/processes at startup — similar to what WinPatrol does)
…and much more
As you can see, this program has a lot to offer. In fact, it may be able to replace some of the other programs on your computer. It is always nice to have as many programs as you can combined into one.
It is great that ToolWiz Care offers all of these great tools, but this also causes kind of a problem. Since it offers so many, not all of the tools are impressive. For example, the Picture Editor it comes with is nice. However, you can more than likely find a better one out there by looking for programs that actually cater to this need. In fact, if you ask me, the Picture Editor kind of seems out of place compared to the other things ToolWiz Care offers. I would also like to say often you can be better off getting specialized tools that perform specific functions rather than go for these type of all-in-one-tools.
Last, I would like to point out that the full scan it asks you to do can be kind of a resource hog. It is not so bad that you can't do other things on your computer when it is running, but don't expect to be running at full speed. On top of that, the scan speed is a little slow for my liking, but I hope that means that it takes its time to find the problems it is supposed to be locating.
CONCLUSION AND DOWNLOAD LINK
Overall, the program is great for people who are looking for an all-in-one cleaner or optimizer that doesn't try to pull any punches. I was happy to see that the program held true to its promise of not trying to get you to buy anything. In fact, I don't believe that there is even a pro version to buy of this program (yet). Some of the utilities (Startup Defender) work wonders. Others, like the Picture Editor, leave a lot to be desired. It really just depends on what you desire — do you want a program that bundles a lot of functionality under one roof but doesn't necessarily master that functionality? If so, ToolWiz Care is for you. If you prefer specialized software, then there isn't much to see here.
Price: Free
Version reviewed: 2.0.0.3700
Supported OS: Windows XP / Vista / 7 / 8
Download size: 7.23MB
VirusTotal malware scan results: 0/42
Is it portable? Yes (The download for portable and installation versions is the same. For portable, select to run the program without installation during setup. This is an option on the first screen of setup on the button left corner.)
Related Posts