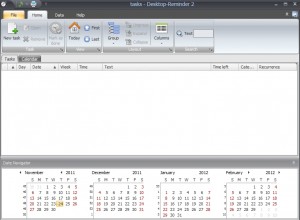 Keeping up with all you have to do in a day can be changeling. However, it does not have to be. Sometimes using a daily planner or your smartphone to remember things is not enough. That is where Desktop-Reminder 2 comes in. This is a freeware program for Windows that can help you manage your tasks.
WHAT IS IT AND WHAT DOES IT DO
Main Functionality
The main function of Desktop-Reminder 2 is to act as a task planner for you. The program makes it easy to set up tasks. In fact, you are not even required to set a start or end time for your tasks if you don't want to. If you do, however, you can even set up alarms and sounds to get your attention when it's time for your task.
Pros
Easily set up reminders right on your computer
No need to set start or end times for your tasks (a requirement with some other task managing programs I have used)
Set repeating tasks for daily, weekly, monthly or yearly use
Over 30 themes to make Desktop-Reminder 2 fit your personality
Cons
Free version does not come with all the cool perks that the pro version has
At the end of the day, this still feels like your basic daily planner
Discussion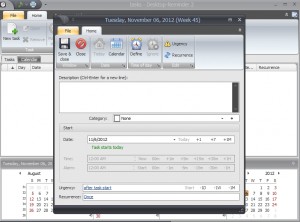 I am one of those people who benefits from having a planner. Not only does it help me keep all of my obligations in order, but it just makes me feel better prepared for the week ahead. That being said, I don't like actually using a daily planner. I have tried a few different task management programs on the computer before, but never really liked many of them. Then I stumbled onto Desktop-Reminder 2.
I'm going to go ahead and start with the fact that Desktop-Reminder 2 is not perfect. The main problem I have with the program is the fact that it suffers from a lack of features. Don't get me wrong, the pro version has tons of things you can do, but the freeware version is a bit lacking. All in all, it makes it feel like a basic planner, when it could really be so much more.
Enough of that, let's get into the features the freeware version does offer. First of all, this is a very intuitive planner. It's not going to take you long to get the hang of using it. Before you know it, you will be setting tasks and planning months ahead of time.
Desktop-Reminder 2 makes it easy to break up all of your tasks into different categories. Thus, you can have different categories for your business and personal life. Of course, you can also sort all of your tasks by things like status, date, and so on.
This manager will give you notifications weeks ahead of an urgent task. Now I know this may not seem very helpful, but there are some tasks you need to be reminded of ahead of time. Maybe you have a big project that is due. It's not going to do you much good to be reminded the day of the project.
Desktop-Reminder 2 makes it easy to set up tasks because you are not required to put in start and end times for your tasks (this is something that some other task managers are guilty of). However, if you want to set times, you can. The program will even set off an alarm when it's time for your tasks.
Now, the pro version allows you to export your tasks to other devices. The freeware version does not allow that, but it does allow you to import .ics files. These are the same files that are used by other task management programs like Google Calendar, Microsoft Outlook and even Apple iCal.
CONCLUSION AND DOWNLOAD LINK
At the end of the day, this is a pretty basic task management program. However, it is easy to use and pretty intuitive. If you have been looking for a replacement program for your task management needs, Desktop-Reminder 2 is worth a look. Just don't expect to be blown away by a long list of features, because they're not there.
Price: Free (Pro version available)
Version reviewed: 2.55
Supported OS: Windows XP / Vista / 7
Download size: 13.6MB
VirusTotal malware scan results: 0/41
Is it portable? No
Related Posts