Sometimes you need to take measurements or guess the height of an object, and there's measuring tape to be found. You could try to step it off, or measure against your own height, or one of a dozen other methods that people use in a pinch. Or, you could give Smart Measure a shot and see if you don't end up with much better results. It's not a replacement for your toolbox, but there are situations where it might be very useful.
WHAT IS IT AND WHAT DOES IT DO
Main Functionality
Smart Measure sets out to help you estimate the distance between you and an object, and to determine the height of the object. The app converts your device into a rangefinder, using trigonometry to determine distance, height, width and area of whatever object you choose. Despite the complicated nature of the inner workings of the app, it's very easy to use and understand. The results come back fast, and before you know it you can be estimating the height of a tree to be cut down, the distance across your yard, or whatever use you may find for this handy app.
Pros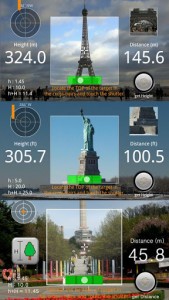 Reasonably accurate
Easy to use and simple UI
Fast results
Cons
Ads on the top of many screens
Results are not always accurate
Calibration is not always successful
Limited number of situations in which it can be useful
Discussion
Opening Smart Measure prompts you with an introduction screen that attempts to teach you the basics about using the app. It even provides you the formulas by which the app makes its approximations, which is visually interesting but useless unless you are very interested in the trigonometry that works behind the scenes. You essentially point your device at the object of your choice and use the rear camera to find the bottom of the object. Tap the shutter button to get the distance between you and the object. Move the camera up to get a height estimate, which changes in real time as you move the camera. After you understand the basics you can select OK or Don't show again. You can go ahead and select to not have it show up anymore, you won't need it after the first viewing.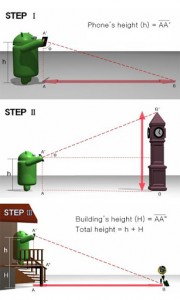 Tapping the three-dot option button brings up a short menu at the bottom of the screen. Users can select from Manual, Input Height, Calibrate, Settings, Pro Version, or About. They're all fairly self explanatory, and you generally won't ever need to tap anything other than calibrate, that is unless you choose to purchase the Pro Version, which adds additional features like Width & Area Measurement and Camera Zoom. The free version is going to be enough for the vast majority of users.
It all comes down to accuracy of measurement with an app like Smart Measure, because that's all it really does, take measurements. After several test runs with objects around the office we can safely say that the app is fairly accurate. We followed up each estimate the app made with a measuring tape, and the estimates were anywhere from a few inches off up to 2-feet away from the actual distance or height. With large objects from a great distance these variances might not matter at all, but with smaller projects such as adjusting something in your home you may want something a bit more accurate. Again, this app isn't meant to be a true measuring tape replacement, so we can't fault them for what they provided.
As with many free apps there are ads at the top of the screen. It's expected, and it never gets in the way of functionality, so there are no complaints on that issue either.
CONCLUSION AND DOWNLOAD LINK
Smart Measure is fast, fun, and easy to use. It does a fairly accurate job of estimating distances and height, and overall we were very pleased with the results. Don't download it expecting to make rock solid measurements for construction, but for estimating general distances and heights it works very well. For a free app it provides a good product that's definitely worth the download if you're interested in general measurements and don't have anything else handy.
Price: Free
Version Reviewed: 1.4.7a
Requires: Android 1.6 and higher
Download size: 554k
Related Posts