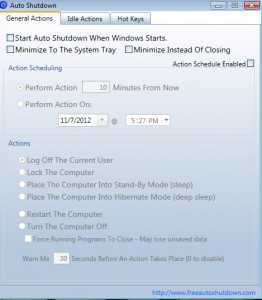 How often do you shut down your computer? I tend to leave mine in standby mode way too much. Of course, to keep a healthy system you have to restart your computer periodically Auto Shutdown is a program that can actually help you keep your system running well by scheduling times for your computer to automatically shut down or restart.
WHAT IS IT AND WHAT DOES IT DO
Main Functionality
Auto Shutdown doesn't do anything fancy, but that doesn't mean it pulls no punches. This is a program that helps save you time and money by scheduling times for your computer to auto shutdown. Maybe you are in the middle of installing a program, and you don't want to wait for it to finish. Just set Auto Shutdown and head off to bed. This way, you save some time for yourself, but you don't lose any money by keeping your computer on all night.
Pros
Schedule times for your computer to auto shutdown
Offers an "Auto Mode", which can power off / hibernate / log off / or reboot your computer
"Close Screen" will switch off your computer screen after it has been idle for a while. This not only extends the life of your monitor, but also lowers your power bill
Scheduling is very customizable
Cons
Many other programs out there offer the same function
Hot key feature seems a little unneeded
Discussion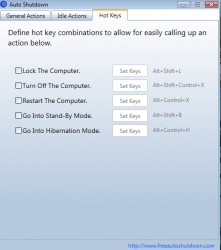 Have you ever been installing a program and are just ready to leave the house or go to bed? However, you find yourself waiting around for the program to finish installing so you can shut off your computer? Well, that is a problem of the past thanks to Auto Shutdown.
Alright, so this has been a problem of the past for a while. I mean, let's be honest, there are tons of programs out there that offer the same feature. In fact, that is one of my biggest problems with the program. While it does its job great, I already have a few programs that not only offer this same function, but a list of other functions as well.
Let's look passed that for a second. Maybe there are still some people out there that need an auto shutdown program. Does this one get the job done? Yes it does, and it does it very well! Scheduling when you want your computer to shut down / restart / hibernate / and so on is very intuitive. To put it simply, learning how to use this program won't take you long at all.
The program even allows you to set hot keys that you can use to manually shut down your computer quickly. Personally, I did not see a real point to this feature. I guess it would be helpful to hit a few combinations of buttons on my computer to shut it down manually, but I could just as quickly click on my "Start" button and click shutdown. Not only that, but if I do it that way, I don't have to be worry about accidentally hitting my "hot keys" and shutting down my computer when I am in the middle of something.
CONCLUSION AND DOWNLOAD LINK
For the most part Auto Shutdown is great. It does what it says it will do, and it offers a lot of different ways to do it. In the end, the program failed to "wow" me, but what do you expect from an auto shutdown program? If you're looking for a quick and easy way to shut down your computer, it may be worth it to give Auto Shutdown a try.
Price: Free
Version reviewed: 1.0
Supported OS: Windows 98 / Me / 2000 / XP / Vista / 7 / 8
Download size: 3.10MB
VirusTotal malware scan results: 5/42
Is it portable? No
Related Posts