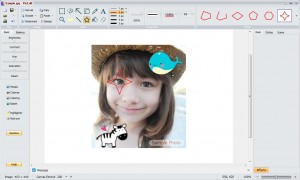 Do you need another picture editor? Maybe you want to replace the one you are currently using? If so, you may want to give PicEdit a try. This is a free program that gives you a variety of different ways to edit pictures on your computer. Overall, this is a pretty powerful photo editor when you consider the price tag.
WHAT IS IT AND WHAT DOES IT DO
Main Functionality
PicEdit is a free image editing program. It is important to note that the program is extremely user-friendly. Unfortunately, this is a positive and negative aspect of the program. However, if you're looking for a program that can make easy fixes to pictures on your computer, PicEdit will get the job done.
Pros
Fun tools available to edit your pictures
User-friendly with almost no learning curve
Features include blurring, mosaic, watermarks, stamps, and more
Cons
Gave errors when starting up in Vista (I was still able to use the program despite the errors in Vista Home Premium edition)
Not much here that we haven't already seen in other photo editing programs
Advance users may be disappointed with what can be done with this program.
Discussion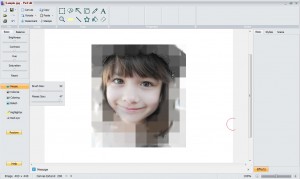 Alright, what's the biggest problem with PicEdit? The answer is: we have seen it all before. There is nothing here that is going to stand out and make you say wow. However, the things that the program does do, it does well. That is saying something since I have used some photo editing programs that can't even pull that off.
First, let's talk about the positive side of things. The program is able to support a large variety of file images. When you start making changes to your photos, the original image is automatically saved. This means, you can revert back to your original at any point if you don't like the changes you have made. The program is also very user-friendly. It won't take you long to figure out how to use it (what little there is to figure out). Last, but not least, they do offer a variety of nice skins you can outfit your program with. Nothing to write home about, but a nice gesture to say the least.
Now, for the negatives. The program gave me an error when trying to start it up in Vista. I was still able to use the program, but I can't say the same will be true for other Vista users. So if you're a Vista user, there is a chance you may not even be able to use this program. Next, the program is a bit lack luster. They do offer some fun tools to "edit" your photos, but nothing too extreme. You can remove red eye, place some stamps here and there, and give pictures a nice mosaic look (been there, done that). In general, I feel that most advanced users are going to feel like this is "grandma's photo editor." I am not saying that is a bad thing, but it's simply not going to get the job done for some people.
CONCLUSION AND DOWNLOAD LINK
PicEdit is not a bad program. In fact, it is kind of fun to use. However, if you're looking for some top-of-the-line photo editing software, you might as well keep looking. For those of you who just want an easy-to-understand photo editor, PicEdit can get the job done for you. With a "free" price tag and the fact it is so small, it might be worth a look-see for some.
Price: Free
Version reviewed: 2.10
Supported OS: Windows XP / 7
Download size: 5.81MB
VirusTotal malware scan results: 0/42
Is it portable? No
Related Posts