Drawing is one of the most free and expressive forms of communication we have, yet it seems so hard to find an appropriate place to convey our inner artist. Having technology in our pocket all the time would surely be more convenient than carrying around a pad and brush. There have been many attempts at giving users an artistic outlet on their Android device, yet they keep making different versions of what is essentially the same product. Let's take a look at a new one called Doodle Joy.
WHAT IS IT AND WHAT DOES IT DO
Main Functionality
Doodle Joy is a simple artist toolbox that's designed to be used by people of all ages and skill sets. There are a variety of brushes, backgrounds, and features to choose from, but it remains incredibly simple and easy to use. Doodle Joy doesn't intend to replace traditional forms of painting or drawing with an electronic alternative, but merely to be a sketch pad or a way to pass the time. The app is designed to work across multiple devices, from smart phones to new tablets like the Nexus 7.
Pros
Cons
Fairly limited selections from an adults perspective
Constant ad at the top of the screen
Discussion
Opening Doodle Joy brings you to a menu screen, from which users can choose Canvas Doodle, Photo Doodle, Gallery, or More Games. Canvas Doodle allows users to free-style, choosing the color of the canvas, the brush style, and the brush color. Photo Doodle mixes it up by introducing images and photo's from your device's gallery. Add drawings around your photos, write in text, and make the image fun with your artistic talent. Gallery lets you view your past work, and More Games takes you to a list of additional games in the Google Play Store by the same developer.
At the bottom of the canvas, or picture, is your toolbar, from which you can control how you manipulate the image. Tapping the blank rectangle gives you a color slider and a box to choose your background color. Once you have a background color in place you need to select a brush type. Tap the paint brush to open the brush toolbox, filled with a limited but fun selection of brush ideas. You can set the size of the brush, the style, and even choose pre-arranged options like Neon, Rainbow, or Spray. Two arrows facing away from each other let the user go back a step, or forward a step, to help correct errors. A play button allows you to watch the entire process of you painting your masterpiece from beginning to end. The last button is the save button, and that's fairly self explanatory.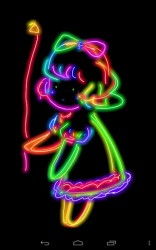 There are more than 20 brushes, easy social media sharing, pinch zoom-in/out, and your gallery images save both the final image and the instant replay video of its creation. Some of the effects are very neat, especially using the Neon effect on a black background. The app makes a great entertainment choice for children as well, giving them something to draw on that may seem more their speed now that children are adopting technology at an ever-increasing pace. Stuck in line somewhere and your kid is having trouble staying still? Pass off your phone, in a protective cover we hope, and let them draw to their hears content. It's very simple to use, so they will likely pick up on making adjustments to the brush and canvas just as quickly as you did.
CONCLUSION AND DOWNLOAD LINK
Doodle Joy is fun, simple, and entertaining. It makes a great app for people of any age who just want to kill some time making doodles. It's definitely not for anyone serious about an art project, or for those who prefer a full digital replacement for their easel. If you can ignore the ad at the top of the screen then this free app is worth the download.
Price: Free
Version Reviewed: 1..1.1
Requires: Android 2.2 and higher
Download size: 1.2MB
Related Posts