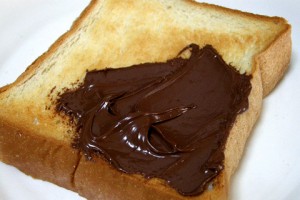 nutella300 Recipe Photobook Lite is an unofficial guidebook to all things Nutella. If you want creative ideas about how to put a tub of this European chocolate hazelnut spread to best use, this app has some good ideas.
What is it and what does it do
Main Functionality
nutella300 Recipe Photobook Lite sets out to provide "recipes" for Nutella fans. However, the "recipes" all seem to involve spreading Nutella on various fruits, baked goods, or savory food items. In my mind, instructing people to use Nutella as a dip isn't a recipe so much as a serving suggestion.
Pros
Provides nearly 30 ideas for foods that pair well with Nutella spread
Easy to navigate interface with thumbnails of tasty treats
Tapping on food images pulls up additional food pairing information
Featuring unique foods from around the world like dumplings and fresh fruit
Cons
"Recipes" involve no actual cooking, are more like dipping suggestions
Recipe images are somewhat low quality and look unprofessional
Extremely limited list of recipes
Many recipes are virtually identical to one another.
Hasn't been updated since 2010.
Discussion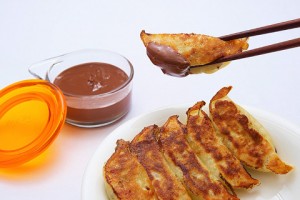 Let's get one thing straight right off the bat: this app is called nutella300 Recipe Photobook Lite…but there's no Full or Pro version out there. That's probably a good thing, because based on this Lite version, I would have no interest in paying for an expanded version of this Nutella-centric food app.
Did you ever see those old "Coffee Talk" sketches on Saturday Night Live? Linda Richman would say "Talk amongst yourselves!" and then give viewers a topic for discussion, like "The Partridge family were neither partridges, nor a family" or "The Progressive era was neither progressive, nor an era." In my mind, nutella300 Recipe Photobook Lite is a bit like a Church Lady topic of discussion: it contains no real recipes, though it does contain plenty of photos. However, it doesn't contain 300 photos, so I have no idea where the "300" comes from.
It's hard to complain about a free app, but there's simply nothing about this Nutella-centric app that's exciting or inviting. There entirety of the app is just pictures of fruit, bread, or other snack foods being dipped into Nutella, with a few sentences describing how each pairing tastes.
However, if you've ever wondered if a certain food would taste good with Nutella, this app can help you to avoid bad food pairings, like Nutella on dumplings or Nutella spread on kiwi fruit. There are even some surprising pairings that work well together, like Nutella on sweet potatoes.
The bottom line: this app feels like a blog that someone condensed into an iPhone app with little forethought. If it was a blog, I'd love it: as an app, it feels cheap.
Conclusion and download link
Hardcore Nutella junkies who are looking for a new way to ingest their favorite sugary spread may find inspiration from this app. However, don't be fooled into thinking there are any recipes to be had here: there are no cookies, cakes, or anything that involves actual cooking. Feel free to skip this offering: there's minimal content to be found.
Price: Free
Version reviewed: 1.1
Requires iPhone/iPad/iPod Touch, iOS version 4.1 or later
Download size: 37.2 MB
nutella300 Recipe Photobook Lite on Apple App Store
Related Posts