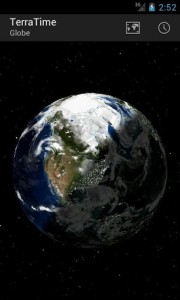 TerraTime is an application designed to beautifully display information in time zones across the world. It is perfect for travelers who are constantly changing time zones. It is also great for people who just want a unique view of common information across the world.
What is it and what does it do
Main Functionality
The main functionality of this program is to simply inform you of the time and other conditions across multiple time zones. However, it does so in a very visually pleasing and unique way.
Pros
Real time simulations of clouds, ice, etc
Clock and compass show sun and moon rise, etc
Globe and map functions are completely interactive
Shows any date or location
Clock and globe widgets
Live wallpapers
Cons
No local weather or forecasts
Discussion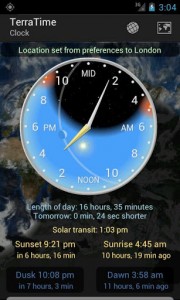 TerraTime is a unique application designed to give you all sorts of information all around the world. You can view very specific information in real time simulations. These simulations include clouds. city lights, sea ice, and more. These simulations are all generated from actual satellite imagery so you know that what you are seeing is accurate.
Using the clock and compass, you can view the sunrise, sunset, moon phase, moonrise, moonset, twilight, and transit times. This can be very useful if you are studying related concepts or if you want to know what is going on in another part of the world. It can help you plan your day by figuring out when it will get dark and when the moon will be visible.
Additionally, you get access to a full globe and map that is completely interactive. This mean you can zoom in and out using natural gestures so you can easily see other parts of the world. You can also view this information based on any date or location that you want. This will give a fantastic view of that has been happening in the world. The app will also provide you with gorgeous widgets and a live wallpaper so you can always have quick access to the information.
Conclusion and download link
Overall, this app can be quite fun. However, the functions may get boring after awhile. Once this happens the application will really only be useful for when your are traveling to other time zones. However, if you are more interested in specific information about whats going on around the world, then this app could really become a great asset.
Price: $2.99
Version reviewed: 3.5
Requires: Android 2.0 and up
Download size: 1mb
Related Posts