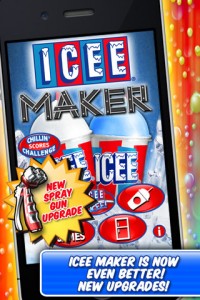 Winter may be nearly here, but that doesn't mean you can't re-capture some summer fun with your iPhone. ICEE Maker is an iOS app that lets you make virtual ICEE slush drinks.
What is it and what does it do
Main Functionality
ICEE Maker offers several different ICEE functions. First and foremost, there is a virtual ICEE machine you can play with. There is also a Fruit Ninja-like slicing game, as well as a virtual fridge to hang up pictures of your ICEE creations.
Pros
Large array of ICEE drinks, straws, and cup designs to choose from
Responsive controls in the slicing game
Bright, fun color scheme
Easy to share via Facebook or email
Cons
Tons of annoying pop-ups
Users have to pay to unlock all of the flavors and designs
Fruit slicing game also requires purchase to unlock all variants
Cup customization feature is really cool, but is locked behind a paywall
Discussion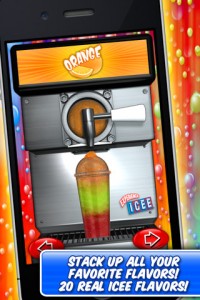 There's nothing quite like a refreshing drink to beat the summer heat, but to be honest, I enjoy ICEEs year round. This app, however, I didn't really enjoy. The Fruit Ninja-inspired slicing game is quite fun, and has wonderfully responsive controls.
But it's quite annoying to buy a free game, only to realize that you need to spend a whole pile of cash to fully unlock it. $1.99 gets you an ICEE photo editing tool, while $4.99 unlocks the ability to design your own flavors and $3.99 unlocks the cup designer tool.
By nickel and dimeing their customer base, ICEE Maker cheapens itself. It's a shame, because it's a fluffy little app that could be a decent timewaster if users weren't being constantly barraged by pop-ups and "buy this upgrade now" notifications. But the constant cash-grabbing takes the whimsy and charm out of the virtual ICEE app.
While the graphic elements are very strong, ICEE Maker is kind of a strange offering. Even the fun comes at a price: you have to clean the machine with a hose between uses!
If you like ICEEs enough to buy the app, wouldn't you rather be drinking the darn things in real life than "drinking" a virtual one?
Conclusion and download link
It's kind of hard to see the appeal of this virtual drink app. The fruit slicing game is good fun, and hard to fault. However, the virtual ICEE part of the app seems a bit boring. You might dig it, but for me, however, the answer is clear: give ICEE Maker the cold shoulder.
Price: Free with optional in-app purchases

Version reviewed: 1.11
Requires iPhone/iPad/iPod Touch
Download size: 19.0 MB
Related Posts