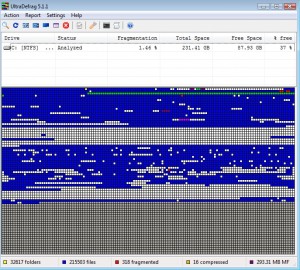 Is your computer running slow? Well, if you have not defragmented in a long time, this tends to happen. There are a lot of reasons why people simply don't defragment their computers. Maybe it takes too long, or maybe they simply don't think about it. Hopefully, UltraDefrag can help overcome some of these problems.
WHAT IS IT AND WHAT DOES IT DO
Main Functionality
UltraDefrag is a quick and easy-to-use disk defragmenter tool. Simply open up the program, hit analyze and see if your computer needs to be defragmented. If it does, hit the defragment button and let this program quickly take care of fragmented files.
Pros
Does a thorough job
Open source defragmentation tool
Quick and easy installation (allows you to choose what you want to install)
Preforms its options fairly quickly (when compared to other defragmentation tools)
Optimization option works wonders and most should notice an improvement in speed
Cons
Help file seems to be made for people who are already familiar with defragmenting
Like with some other defragmentation tools, it can put a strain on computers with limited resources
Optimization is extremely slow
Discussion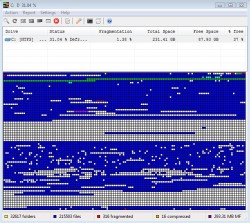 The company behind UltraDefrag says that their goal was to make a program that was not only able to defrag your computer quickly, but also make the program reliable. For the most part, I would say that they did a fine job.
First of all, let's talk about a basic defragmentation. Open up the program and click the analyze button (unless you simply know your computer needs to be defragmented). After that, it will give you a report. From there, if your computer needs it, you can hit defragment, and UltraDefrag does the rest. The thing that I love about this program is how quick it was able to defragment my computer. It will run circles around the Windows Defrag Tool that comes standard with your computer.
The program also offers an optimization option. This was a nice surprise because I was not expecting it. However, there is a good and bad side to this option. First, it works wonders. After running the program it seemed like my computer was able to access files quicker. It seemed like the overall speed of my computer was faster. That being said, it is really, really…really slow. The program ran for hours without completing. Just to give an example, when I started the optimization process I left the program alone and went to do other things. When I came back (nearly 2 hours later) it was at 13.62%. So if you're going to use this option…make it the first thing you do at the start of your day.
CONCLUSION AND DOWNLOAD LINK
For the most part, this program seems to be like a lot of other third-party defragment tools. However, I recommend this one, as I had no problems with it messing up my computer. I have run other defragmenting tools that caused problems, but no such issues were noticed with this one. Do keep in mind, however, that the optimization option takes a REALLY long time (did I mention that already?).
Price: Free
Version reviewed: 5.1.1
Supported OS: Windows 2000 / XP / 2003 / Vista / 7
Download size: 482KB
VirusTotal malware scan results: 0/42
Is it portable? Yes, there is a portable version available for download
Related Posts