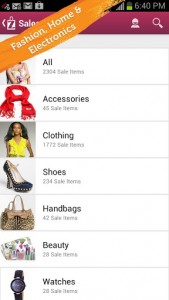 Zoomingo is an app designed to help shoppers find the best possible deals at local stores. This app is perfect for the holiday season, especially Black Friday. This app will fit anybody who gets overwhelmed by all of the potential sales that various stores are offering.
What is it and what does it do
Main Functionality
This app will tap into sales that are going on in your local stores and display them to you for your convenience. It is meant to take the hassle and guess work out of shopping.
Pros
Find the best prices in your local stores
Works with Black Friday sales
Compatible with over 80 nationals stores
GPS support
Create shopping lists
Get directions to the closest store
Games and prizes
Cons
Doesn't support smaller stores
Is just re-postings of advertisements
Discussion
Zoomingo is an app that is going to find it's way into the hands of many shoppers as the busiest shopping season fast approaches. This app will put you in touch with all of the best possible deals at all of your favorite stores. Perhaps the biggest advantage is that it will work hard to find you Black Friday deals. This is huge because some people spend hours reading through different advertisements to find the best possible price for one specific item.
The app will tap into your GPS location and display content from over 80 different national retailers. While this is great, it rather unfortunate that the app only supports national retailers. It would be nice if they could pull deals from smaller stores that don't compete with large franchises. This is undoubtedly because the app pretty much only displays prices and information that is found the store's typical advertisements. In other words, the app isn't giving you secret information, just making popular information more convenient to access.
Once you have found several items you like, you can create a shopping list right within the app. This is great because you can always have your list of potential purchases right in your pocket. The app will also provide you with information to the closest store to find the deal you are looking for. This is great because some areas have multiple stores selling the same item.
Zoomingo also tries to encourage you to have a little fun. The app features several ways that you can actually win prizes. The offer both daily and weekly prizes. In order to win a weekly prize, you must play the "Hot or Not"  game to earn points which can the increase your chances of winning, In order to win a daily prize, you must go to a mall and play the "Spin N' Win" game for a chance at winning.
Conclusion and download link
Overall, this app can be extremely convenient especially since shopping season is fastly approaching. While this information provided isn't earth-shattering, it is nice to have a centralized app to find all of the deals that you would normally have to sort through advertisements to find. The addition of potential prizes really makes this app tempting to any person who shops frequently.
Price: Free
Version reviewed: 3.5
Requires: Android 2.2 and up
Download size: 5mb
Related Posts