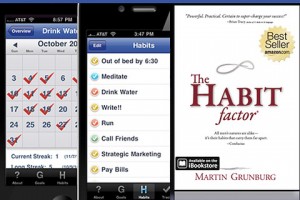 The Habit Factor LITE is an iOS app that helps users to start building up good habits and track their progress towards achieving major life goals.
What is it and what does it do
Main Functionality
The Habit Factor LITE aids users in tracking their habits and goals. The approach is simple: for every big goal users set, they also need to set smaller habits, which will aid in reaching that goal. For example, if the goal is to write a novel, then one habit to set might be to write for 30 minutes every afternoon.
Pros
No ads
No need to login or register prior to use
Features their patent pending Habit Alignment Technology™ so users can build smaller habits that help build towards larger goals
Charts are easily generated to showcase your progress
Easy to navigate and intuitively designed
Cons
Hasn't been updated in nearly a year
Lite version limited to 3 Active Habits and 1 Active Goal (paid version has no limits)
App's attempt to balance social, work, mind and body aspects of one's life seems a bit forced, if well-intentioned
Tracking can skew data in some instances: for example, if you set a habit target to take place 3 times a week, but you do it 5 times, you get a complete rate of 133 percent. This might annoy some users.
Discussion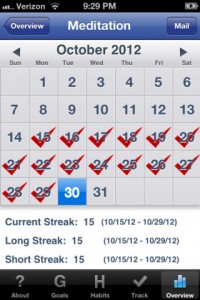 While it might seem a little cliche, it is nice that the first screen that users encounter when using The Habit Factor LITE is a screen of inspirational quotes. For people trying to make real, lasting changes to their lifestyle, starting off the habit tracking experience with a solid quote can definitely help to put users in a good mindset.
Between the inspirational quotes and the tracking tools it offers, the Habit Factor LITE is like having a life coach in your pocket. The interface is solid, and far easier to navigate around than many other habit-forming apps. Of special interest are the charts, which monitor not only your progress over time, but tell you how many days you have been on a "good streak."
One thing that is truly annoying is the way that Habit Factor LITE closes itself down automatically. When your phone goes to sleep, the app shuts down. If you were in the middle of something and got distracted, you need to relaunch the app and go past the main Quote screen to resume your work with the app.
Another thing that is problematic about Habit Factor LITE are the limitations imposed on the free option. While the full version of the app has no limits, the LITE version limits users to just 3 Active Habits and 1 Active Goal. Unless you want to shell out $6.99 for the full version of the app, you're basically limited towards working towards one goal. In short, the free version simply doesn't measure up to the needs of most people.
Still, it is nice that this functional app doesn't make you sit through a tedious signup process or ugly banner ads. It's a quality app, but still too limited to be truly useful.
Conclusion and download link
Despite a great pedigree and outstanding tracking abilities, The Habit Factor LITE is basically only a good choice if you have a simple goal you're trying to achieve. Unfortunately, the limitations in the LITE version are too austere to make it useful for tracking all your life goals and good habits. But if the Full version is as nice as the LITE version, it may be worth buying the pay-to-play version of The Habit Factor.
Price: Free with optional paid version

Version reviewed: 1.9.2
Requires iPhone/iPad/iPod Touch, iOS version 3.0 or later
Download size: 4.0 MB
The Habit Factor LITE on Apple App Store
Related Posts