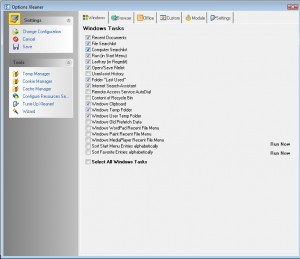 Do you want to remove all traces of activities? Would you like to free up some space on your computer by getting rid of junk you no longer need? How would you like to do all of this with just a click of a button? Well, thanks to Xleaner Portable this is now possible. The best part is, you don't even have to install the program.
WHAT IS IT AND WHAT DOES IT DO
Main Functionality
Your computer saves information about you. Over time, this all builds up and uses space. Now you can get rid of this sensitive information while freeing up room on your PC. In short, Xleaner Portable is a program that you don't have to install and will help protect your privacy while removing junk files from your computer.
Pros
No installation required
Does a great job as a free privacy and clean-up utility
Supports Internet Explorer, Firefox, Opera, Chrome, Safari, Microsoft Office, and the Registry
Cleans computer quickly
Supports extended functionality via third-party plugins
Cons
Interface could be kind of confusing at first
A better "ending report" would be helpful
Doesn't have very many plugins
Discussion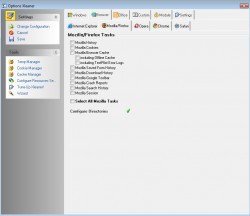 Programs like Xleaner Portable are not hard to come by. In fact, it is hard to surf the internet for too long without stumbling across one. So the question is: How does Xleaner Portable stack up against other programs you may already be using?
First, what does Xleaner Portable do (for those of you that don't know)? The program helps to protect your privacy by removing things from your computer like your internet history, cookies, auto-complete memory, cache, and so on. It also helps free up room on your computer by deleting Window's temp documents, junk in your recycling bin and so on. The following is a full list of cleaning that Xleaner does:
Cleans up your Windows

Documents in the Start Menu
File search list
Computer search list
Run entries in the Start menu
Last edited Registry Key
Open / Save File List
Windows User Assist entries
Folder 'Recently Used' MS Office
Internet Search Assistant History
Contents of the Windows Recycle Bin
Windows clipboard
Windows Temp folder
Windows User Temp directory
Windows prefetch directory
Remote Access Service (RAS) AutoDial
Windows WordPad Recent File List Menu
Windows MSPaint Recent File List Menu
Windows Media Player Recent File List Menu
Start menu entries alphabetically
Favorite entries alphabetically

Internet Explorer browser

Internet Explorer History History
Internet Explorer cookies
Internet Explorer browser cache
Internet Explorer's URL in the Address Bar
Internet Explorer AutoComplete entries in forms
Internet Explorer Downloaded Program Files
Internet Explorer Offline Pages

Mozilla Firefox browser

Mozilla History History
Mozilla cookies
Mozilla browser cache
Mozilla offline cache
Mozilla Test Pilot Error Logs
Mozilla Forms
Mozilla Download List
Mozilla Google Toolbar
Mozilla Crash Reports
Mozilla search history
Mozilla Session

Opera browser

Opera History History
Opera Cookies
Opera DOM Storage
Opera Browser Cache
Opera thumbnails (SpeedDial> Speed ??Dial)
Opera's URL in the Address Bar
Opera Download List
Opera Website Icons

Google Chrome browser

Chrome History History
Chrome cookies
Chrome Browser Cache
Chrome Jump List Icons
Chrome Session
Chrome Download List

Apple Safari browser

Safari History History
Safari Cookies
Safari browser cache
Safari saved form data

Netscape browser

Netscape History History
Netscape cookies
Netscape browser cache

Deep Scan (user definable)

Free definability of file masks
Predefined file masks can be loaded
Unlimited determination "My folder" and "Private files"

Clears your Office History (versions 97, 2000, 2003, 2003 templates, 2007, 2010)

Microsoft Office Access
Microsoft Office Excel
Microsoft Office PowerPoint
Microsoft Office Word
Microsoft Office FrontPage

Adjusted the registry

… further

Possibility of free clearance and optimizing memory

and the

Volume check for errors by Windows Check Disk (CHKDSK)
Hearing what Xleaner Portable does is not all that impressive. That is because there are a ton of programs out there that can do this same task, notably CCleaner which has support for very many more programs if you use CCEnhancer. However, what is nice is the fact that you don't have to install Xleaner Portable. Simply download, unzip and you're good to go! That was reason enough for me to give it a shot, and I'm glad I did.
Before running Xleaner Portable, I ran another cleaning program. I did this because I wanted to find out if Xleaner Portable would be able to find more stuff than this other program left behind. In the end, Xleaner Portable did not find any remaining cookies, browsing history or anything like that. However, it was able to free up another 81MB of room. This would have been more exciting had it gave me a more detailed report as to what was removed. I would have liked to know what "junk" files it found that the other program missed.
The good news is everything on my computer seems to be running normally. So it was able to free up space without messing up things on my computer. That was one thing that I was worried about. This goes double since it found an extra 81MB of junk lying around.
CONCLUSION AND DOWNLOAD LINK
Overall, Xleaner Portable is highly customizable. There are a lot of options so you can go in and adjust what it looks for while it is cleaning your computer. The interface can be a little confusing at first, but if you give it a decent go, you should have no problems figuring it out in the end.
Price: Free
Version reviewed: 4.22
Supported OS: Windows 98 / Me /2000 / XP / Vista / 7
Download size: 1.50MB
VirusTotal malware scan results: 0/42
Is it portable? Yes
Related Posts