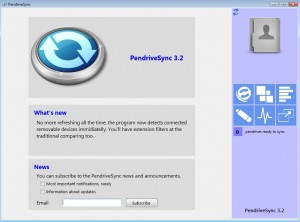 Finding a good file synchronize program is not easy. I should know, I have tried plenty of them. Then I came across PendriveSync. This is a program that quickly lets me sync files between my computer and removable devices. Best of all, this software is able to recognize which removable device you have plugged into your computer. This makes it possible to use the same device to quickly back up multiple computers.
WHAT IS IT AND WHAT DOES IT DO
Main Functionality
PendriveSync does what any other synchronization program does. However, this one has a leg up on the competition because of its ability to recognize the external device you plug up to your computer. Let's say you synchronized your laptop to a pendrive, and then you take that same pendrive and plug it into a different laptop. The program will ask you if you want to set up a new file for this new computer.
Pros
Newest version is faster, cleaner and easier to use
Makes it easy to synchronize several different directories on your computer
Use the same pendrive on multiple computers.
Cons
Internet required during installation (not a big deal, but another step nevertheless)
There is a lot to learn about this program at first
It can be kind of confusing
Easier programs out there to use if you're looking to sync just one computer to one device.
Discussion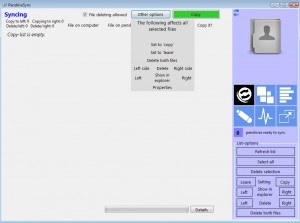 When I first heard of PendriveSync, I assumed that it was just a normal synchronization program. However, I quickly learned why this program has a leg up on the competition. PendriveSync makes it possible to sync more than one computer to the same pendrive. It does this effortlessly without you having to command it to do so.
The best way to break this down is with an example. Let's say you have two laptops. For the purpose of this example they will be Laptop (1) and Laptop (2). Now, let's say you sync a pendrive to Laptop (1) and it synchronizes several different directories for you. Then, you take that same pendrive and plug it into Laptop (2). Right away, the pendrive is going to know that this is not the same laptop and ask if you want to set up a new location for this second laptop. Basically, you are able to sync files from two different computers without ever getting them mixed up. To top it off, the program will remember which laptop it is plugged into, requiring virtually no effort on your part.
The biggest problem I had with the program was the learning curve. It is not really that hard to set up if you have messed around with synchronization programs before. However, if you have not, you may find yourself kind of lost. They do offer some help files, but I can't help but feel that they are geared more towards people who have used these kinds of programs before. Which is fine for me, but I feel that it may be kind of disheartening to newcomers.
On a side note, when you install this program, make sure you have internet. The installation process needs internet access to finish. For most people I don't see this being a problem, but it's worth pointing out.
CONCLUSION AND DOWNLOAD LINK
The program is helpful for people who are looking to synchronize more than one computer to the same device without going through the hassle of setting it up every time. That being said, there are easier programs out there to use if people are just looking to sync their files to an external device.
Price: Free
Version reviewed: 3.2
Supported OS: Windows 2000 / XP / 2003 / Vista / 7
Download size: 480KB
VirusTotal malware scan results: 0/42
Is it portable? Yes
Related Posts