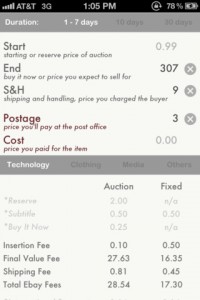 eBay + PayPal Calculator, developed by Sheng Shao, is a bare bones calculation tool for eBay sellers to calculate their shipping costs, fees, and profit margins for their listings.
What is it and what does it do
Main Functionality
eBay + PayPal Calculator offers users a simple way to calculate both eBay and PayPal-related seller's fees. These fees include shipping, PayPal fees, taxes, insertion fees, But It Now listing fees, and more. The calculator also allows for adjustments based on the duration of the auction listing, as well as whether your account qualifies for free listings.
Pros
Updated as of August 2012 to reflect current prices and policies (and comes with easy, in-app button to check for updates to eBay's fee policy)
Minimal, stripped-down UI
Displays fixed and auction fees together for easy comparison
Cons
Supported by annoying iAds
Can only calculate and compare 2 items concurrently on the iPad version, not on the iPhone version
Font size is somewhat small and hard to read: app only works in portrait mode
Readability issue compounded by lack of contrast between background and text color
Can't review all of the data on a single screen
Discussion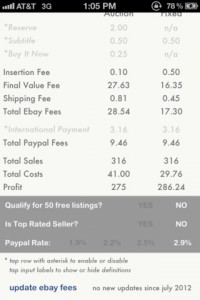 eBay + PayPal Calculator has been designed by Sheng Shao to be very minimal, bare bones, and stripped down. There are no frills or extras here, so if you want a flashy calculator app, look elsewhere. What Shao's app does deliver is a simple app that does calculations to make your life easier.
There are a few nitpicky things that are a bit annoying. It's too bad that you can't tilt the phone and have eBay + PayPal Calculator work in landscape mode. At the end of the day, when your eyes are tired, you want to be able to see those numbers clearly so you can accurately enter them into your eBay listing. Upping the contrast between the gray background and black text would help a lot in that regard.
It's easy to pick on free apps that are supported by ads, but in this case, the ads really are a pain in the butt. Particularly when you're inputting info on the keyboard, the ad and keyboard compress the visible area of the screen, which is somewhat annoying.
Still, it's hard to complain too much. This handy app is really a good tool to have in your app arsenal if you're a frequent eBay seller. It's really nice to be able to make a small adjustment on the item's price or shipping cost, and instantly see how that affects your total profit.
Conclusion and download link
eBay + PayPal Calculator is a solid calculating app with up-to-date fee info. While users with bad eyesight might struggle to read the screen at times, overall, it is worth downloading.
Price: Free
Version reviewed: 4.0
Requires iPhone/iPad/iPod Touch, iOS version 4.3 or later
Download size: 0.1 MB
eBay + PayPal Calculator on Apple App Store
Related Posts