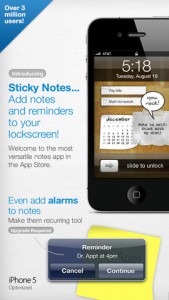 Sticky Notes with Alarms and Sharing, a free iPhone app developed by TapFactory, just released it's latest update today. Version 4.0 of Sticky Notes is redesigned to better provide sticky notes and reminders for users.
What is it and what does it do
Main Functionality
Sticky Notes with Alarms and Sharing gives users the ability to leave stickies on their lockscreen, share notes over Bluetooth and Wi-Fi, and organize notes into color-coded folders. The sticky notes can also be used in combination with photos or your alarm function.
Pros
Version 4.0 includes a whole pile of all-new features: color-coding, the ability to add photos to notes, the ability to set alarms that recur on a regular schedule, and more. Other improvements include sharing over Wi-Fi and Bluetooth, as well as improved touch/drag controls
Wide variety of sticky note shapes and sizes, which can be written on in various fonts and colors: perfect for people who need color-coding to keep organized!
Variety of background to minimize eye strain and make your notes pop
Export feature turns your sticky board into your lock screen background, keeping your notes front and center so you don't forget about them
Cons
Sticky note board feels a bit cramped on the iPhone, though this is somewhat alleviated by ability to "pinch" notes down to a smaller size
Limited number of backgrounds and stickies in the free version
Some annoying ads
Limited ability to categorize items without upgrading
Somewhat unintuitive designs: try and delete a note and you'll see what we mean
Stability issues: Sticky Notes crashed a couple of times during testing
Discussion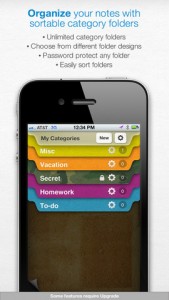 Back when I still worked in a traditional office, my desk and my cork board were always littered with sticky notes. Now that I work mostly from my laptop and my iPhone, my stickies have gone from traditional to digital. I've used a lot of sticky note options over the years, and I really think that Sticky Notes with Alarms and Sharing is one of the best.
I'm very much an "out of sight, out of mind" person, so the ability to put my sticky notes on my lock screen is amazing. It's really hard to forget about something when you see it every time you look at your phone, so this is a great feature.
The colors are also a magic help. It's really easy to color code your notes with various different sticky notes, and the notes can easily be resized to help draw your eye to the biggest, most important messages.
There are some minor annoyances: I don't like the ads that are constantly trying to up-sell me, nor do I particularly care for the app's stability issues. While the crashes weren't constant, they were still a bit annoying.
Conclusion and download link
In short, Sticky Notes with Alarms and Sharing is a great free tool for anyone who needs sticky notes to remind them of upcoming events. With great alarms, the ability to share your notes, and the all-important ability to put those notes on your lock screen, there's no reason not to give this useful app a test drive.
Price: Free, with optional Pro version
Note: Pro version is on sale for 99 cents until Monday, November 26
Version reviewed: 4.0
Requires iPhone/iPad/iPod Touch, iOS version 5.0 or later. Optimized for iPhone 5.
Download size: 41.7 MB
Sticky Notes with Alarms and Sharing on Apple App Store
Related Posts