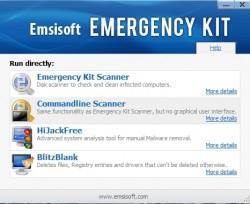 Do you like programs that don't hold your hand while you use them? If so, Emsisoft Emergency Kit is for you. This is a powerful cleaning program that can help you remove even the toughest-to-remove threats from your computer. That being said, this is not a program that should be used by users that don't know what they are doing. This tool gives you the power to remove just about anything, and there is a chance you could mess up your computer if you remove the wrong thing.
WHAT IS IT AND WHAT DOES IT DO
Main Functionality
Emsisoft Emergency Kit is a program that gives you access to 4 great tools: Emergency Kit Scanner, Commandline Scanner, HiJackFree, and BlitzBlank. These tools can be used to take control of your system again after it has been infected by worms, trojans, and other malware.
Take note this is not an anti-virus program. It will scan for and remove viruses, yes, but it isn't a proactive protector. As the name may suggest, Emsisoft Emergency Kite is for cleaning your computer after malware infection.
Pros
No installation required
Launches with 4 different tools to choose from: Emergency Kit Scanner, Commandline Scanner, HiJackFree, BlitzBlank
Gives you complete control to remove just about anything from your computer
Does a great job at treating PCs infected by malware (spyware, adware, worms, keyloggers, trojans, and so on)
Great program for advanced computer users
Cons
No installation, but unzipping it still takes about a minute or so due to its size
At 233MB, the case can be made that this is not very portable, despite not needing to be installed
BlitzBlank allows you to delete things that you normally would not be able to delete. The program even warns you going into it that the program should only be used by professionals
Not user friendly for basic computer users
Discussion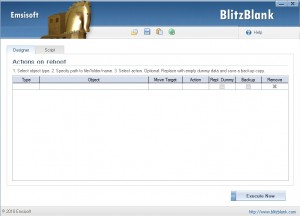 I could just sit here and tell you that Emsisoft Emergency Kit is just another virus removing tool. However, it is able to do so much that I rank it above many other programs that set out to achieve the same goal. That being said, this is a program that is made with advanced users in mind. This is great news for people who know what they are doing and bad for people who don't.
The fact that this tool is for advanced users should be music to some people's ears. This alone lets you know that the program is going to give you more control over what you can remove than other programs. That being said, let's get into the tools that it does offer.
First, there is the Commandline Scanner. This tool basically gives you the same function as the Emergency Kit scanner but without the graphical user interface. For some, this is actually going to be more helpful. This is a tool that should be used by professionals and can be used for doing batch jobs. The more basic user can get away with using the Emergency Kit Scanner.
Next is HiJackFree. This is a program that can help advanced users find and remove malware from their computer manually. Anyone who was happy to hear that will know if this is a tool for them or not. It will allow you to manage all of your drivers, services, running processes, open ports, host files and much more.
Then there is the BlitzBlank. If you're not a professional, just leave this one alone. This tool even pops up with a warning to let you know that it is for experienced users only. The program gives you the ability to delete files, drivers and registries. It can even delete drivers at boot time that are used before Windows or any other programs are even loaded. This gives you complete control over your computer, but should not be used by your basic user.
CONCLUSION AND DOWNLOAD LINK
This is a great program, and I highly recommend it… for advanced users. I think there is not enough here for basic users to get much use out of. However, if you have been trying to remove hard-to-delete viruses off your computer, you may want to give Emsisoft Emergency Kit a try.
Price: Free
Version reviewed: 3.0.0.1
Supported OS: Windows XP / Vista / 7
Download size: 233.54MB
VirusTotal malware scan results: File too large to scan with VirusTotal
Is it portable? Yes
Emsisoft Emergency Kit homepage
Related Posts