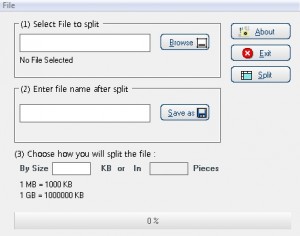 There are a lot of programs out there that can split files into smaller, more manageable pieces. However, one of the easiest ones I have used in a long time is inSplitter Files. This program can easily split big files and allows you to rejoin them without having to use the program.
WHAT IS IT AND WHAT DOES IT DO
Main Functionality
inSplitter Files is your basic file splitting program. The thing that makes it stand out from others is the fact that it can easily split large files in two ways (by size or pieces). The thing that makes the program even better is the fact that it gives you a BATCH file to rejoin all of these files on the go.
Pros
Extremely easy and intuitive to use
Choose to split your files by size or by number of pieces
Can split files into 300 pieces
Is able to split big files (10GB file tested)
inSplitter is not needed to merge the files back together. It uses a BATCH file to piece files back together. So the split file can be transferred or taken with you on the go, and put back together without inSplitter installed.
Cons
CNET download comes with their "pre-installer", which tries to get you to install extra programs. All programs can be avoided by simply unchecking them during installation.
Program does not work with Windows Vista.
Discussion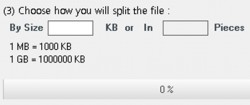 Sometimes, transferring large files can be difficult. If you want to transfer a large file by way of email, you're going to need a way to break up the said file. The good news is there are a lot of programs out there that can help you split these large files into more manageable pieces. One of the ones I like the most is inSplitter Files.
At first look, inSplitter Files looks like any other file splitter. However, after giving it a try, I liked the overall process of inSplitter Files better. Not only was it easy to split up files, but it was extremely easy to rejoin them together.
First, let's cover the pros of the program. InSplitter allows you to split files in two different ways. You can split them by either size or by number of pieces. If you choose pieces, you can split a file into as many as 300 different parts.
I also liked how quickly the program was able to split large files. For example, during testing I took a large 10GB file and told it to split it into 300 parts. It was able to handle this giant task quickly and without fail.
When it came to putting the files back together, I was happy to learn that this task could be done without the need of inSplitter Files. This was thanks to a BATCH file that was created when the files were split. In short, this means that you can split a file at your house, take it with you and rejoin it wherever you want without having to install inSplitter Files.
CONCLUSION AND DOWNLOAD LINK
There are a lot of programs out there that can accomplish the same task as inSplitter Files. However, I have worked with programs in the past that make this process more complicated than it should be. If you're just looking for a quick, easy-to-use file splitter that allows you to rejoin files without its help, then inSplitter Files is perfect for you. I would also recommend it for anyone who is looking for an alternative splitting program in general.
Price: Free
Version reviewed: 1.0
Supported OS: Windows XP / 7 / 8
Download size: 600KB
VirusTotal malware scan results: 2/44 (threats detected come from CNET's pre-installer)
Is it portable? No

inSplitter Files download page
Related Posts