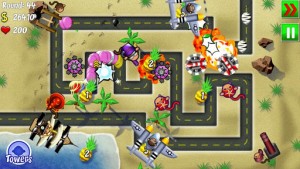 Bloons TD 4 is an extremely popular web-based game that was recently ported to Android. It is a tower defense game and follows typical tower defense gameplay. This game will be a big hit for those who are familiar with and enjoy playing the tower defense genre.
What is it and what does it do
Main Functionality
This game is designed to bring lovers of the Bloons TD series to the Android platform. It is also designed to help lure in new tower defense lovers because it can be incredibly basic and easy to understand at first.
Pros
Full port of original Bloons tower defense games
15 different tracks
3 difficulty settings
Free-play mode
Special bonus unlocks
Cons
Can get very slow
Screen does not stay awake
Discussion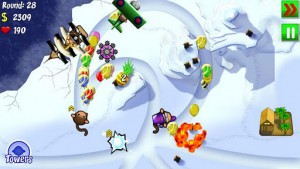 Bloons Tower Defense is perhaps the most popular tower defense game. For those of you not familiar with the tower defense genre, it involves building towers to destroy specific targets. The targets are constantly moving in a steady stream until the end of the round. As the rounds progress, the enemies get progressively more difficult to wound and destroy. Additionally, the number of actual enemies simultaneously increases. Thankfully, the ability to destroy them also goes up due to the upgrades you can purchase for your towers. These upgrades can take you extremely far as the levels of upgrades for each tower are quite vast.
If you are familiar with the web version of Bloons Tower Defense, then you will be right at home with the port to Android. You will find the overall tower setup to be identical. This means that all of the towers, monkeys, and power ups will be consistent throughout. You can go through the course of the game, battling through well over 15 levels. Each level can be played using 3 difficulty levels. This actually makes for quite a large amount of potential gameplay. In fact, part of completing the game involves beating every level on the hardest possible difficulty.
Once you have completed a certain level, you can choose to continue in free play mode. Free-play mode occurs once you've popped enough balloons to move onto the next level, but choose not to. Free-play allows you to get the feel of what difficult levels will feel like without the added pressure of potential failure. The more you progress through levels, the more you will unlock. Unlockable features include different levels and even more powerful power-ups for your towers.
Conclusion and download link
Overall, this game is an incredibly basic version of a complicated genre. This game will serve as a perfect introduction to anybody who is interested in tower defense games. The best part is, it is a port of an already existing game that is extremely popular. There are some tweaks like the fact that it can get slower the more you progress and the fact that the screen will still turn off during gameplay. However, these are only minor interruptions to gameplay and really doesn't take away from the fun.
Price: $3.15
Version reviewed: 2.1.0
Requires: Android 1.5 and up
Download size: 46mb
Related Posts