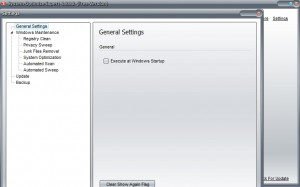 If you're looking for one of the best system cleaning, scanning and optimizing products on the market, you can't go wrong with System Optimize Expert. This program is extremely powerful and easy to use. The program is free (kind of) and can help relieve you of a sluggish PC.
WHAT IS IT AND WHAT DOES IT DO
Main Functionality
System Optimize Expert is a program that can help you turn your sluggish PC into a "like new" computer again. It is extremely user friendly and can even walk the most basic user through the problems it finds. The program specializes in the overall scanning and repairing of your system.
Pros
Free version does a great job of letting you know what's wrong with your computer. This includes deleting junk files, bad registries, and web history as well as offering optimization tips for Windows.
Great at removing the files (within its usage limit for the free version)
Uninstalls extremely fast and easy (yeah, I'm talking about the program itself)
Cons
Keeps promoting you to upgrade to the Pro version
Limit to the number of fixes you can perform at one time (upsetting when they list these kinds of programs as free)
Had display issues on Windows Vista, which caused errors to pop up from time-to-time
Discussion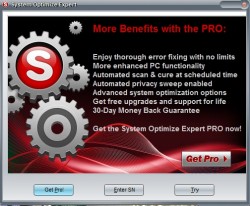 Typically, I like to write about the good programs I find. However, every once in a blue moon there are just some programs you have to warn people about as well. System Optimize Expert is one of those programs. Now, I am sure that the Pro version works wonders, but the free version is nothing more than a tease slapped with a free price tag.
Let's start off with the good stuff first. This tool does a great job at finding problems on your computer and letting you know what you need to correct. It even offers users the ability to do things automatically. It can also quickly get rid of files from your computer, like bad registry entries, your web history, and so on. Last, but not least, once you're done with this program it can be very easily uninstalled (my favorite feature yet).
Now for the bad; here we go! First, it keeps wanting you to upgrade the program. Every time you start the program you are greeted by a nice splash screen telling you to "Upgrade now!" What the program forgets is that you don't have to be reminded of this. Whenever you scan your computer and are limited to the amount of things you can fix, you will remember all too well that this is the "free version."
Also, I cannot speak for other operating systems, but it had real problems displaying on my 32 bit Vista. I even tried uninstalling and reinstalling but never got it to look just right. As you can see from the screen shots, I did get it "working," but a number of errors would pop up from time-to-time. It may not have problems on other Windows platforms, but I did have a bit of trouble.
CONCLUSION AND DOWNLOAD LINK
My recommendation is to stay away from this one. Don't fall victim to its free price tag, because it really is nothing more than a free demo. The Pro version might work well, but I was not impressed enough with the "demo" to even give it a chance. If others had a good experience with this program, more power to you. For me, it was a waste of time, and I was happy to see how fast it was uninstalled!
Price: Free ($50 for Pro)
Version reviewed: 3.2.9.2
Supported OS: Windows 2000 / XP /Vista
Download size: 3.41MB
VirusTotal malware scan results:  2/43
Is it portable? No
System Optimize Expert homepage
Related Posts