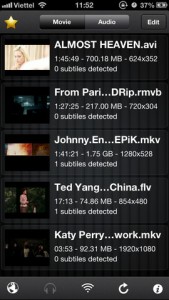 Ever tried to watch videos to your iPhone but to no avail because of the file type? iMedia Player for iPhone solves that for you – with this app you can now view any video, no matter the file type.
WHAT IS IT AND WHAT DOES IT DO
Main Functionality
iMedia Player lets you view videos of any format. It is perfect for people who have tons of videos that they want to transfer to their iPhone.
It is easy to transfer videos to the iMedia Player app – just open iTunes on your computer, connect your iPhone, click on "Apps" under your device and then "iMedia Player". The program will then tell you to browse for the videos you want to transfer to the iMedia Player app.
Pros
Practically every video format is viewable from the app (XVID/DIVX AVI, WMV, RMVB, ASF, H264, MKV, TS, M2TS, etc.)
Supports 1080p and 720p video playback, if your device has a high enough resolution
Allows audio of any type as well (MP3, WMA, WAV, OGG, FLAC, etc.)
Has WiFi sharing
Able to enter a HTTP URL and it will get the video from there
Orientation lock option for landscape/portrait mode
Supports subtitles, if provided (SMI, ASS, SSA, SUB, SRT, TXT, etc.)
Cons
Annoying advertisements
Pop ups when you first open up the app to ask you to download another app
Supports 1080p only for MP4, MOV, M4V and MPV files (which isn't an issue with the iPhone, since it doesn't have 1080p but is with the iPad)
Discussion
I really like using iMedia Player. There are some videos which I really have to keep because they hold a lot of memories for me, and because Apple does not support the file type, I just transfer it to iMedia Player and I can just watch it easily – simple as that.
Something annoying about it though, is that you have to pay to remove ads from it. However, the advertisements do not disrupt the video viewing, so the free version is actually good enough. The pop ups asking you to download another app can easily be ignored by clicking the "Cancel" button, so if you are not a fussy person, this app will definitely be to your liking.
I use iMedia Player really often because I love rewinding back to old memories. If you have DVDs of movies that you want to transfer to your iPhone so you can watch it on the device, iMedia Player will be a helpful app for that, too. It is not hard to transfer videos over to the iMedia Player app. While it takes a little bit more work than transferring videos to the original Apple "Films" app, it is really worth the few seconds extra.
CONCLUSION AND DOWNLOAD LINK
iMedia Player would be useful for anyone who takes videos often, or have some audio to listen to which file type Apple is not able to play. While the ad-free version sounds nicer, the free version – with ads – is actually more worth it, especially since the only the ads are removed in the paid version; nothing else is actually changed. However, if you are a person who is particular about ads, then no worries – feel free to get the paid version!
Price: Free
Version reviewed: 1.1
Requires iPhone/iPad/iPod Touch, iOS version 4.3 or higher
Download size: 15 MB                         
iMedia Player on the App Store
Related Posts