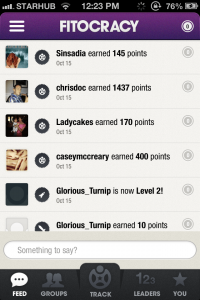 Feeling lazy and fat, or being a couch potato lately? Try exercise to perk you up. Fitocracy is a great app to help you out with exercising, especially with their ever creative point system.
WHAT IS IT AND WHAT DOES IT DO
Main Functionality
Fitocracy is a great app for you to record your workouts on, as well as compile exercises together to form your own unique workout. Whenever you exercise and record your workout, you will be given points. A certain amount of points will allow you to level up, and the sense of accomplishment you get is amazing. There are quests for you to do, too, that will give you more points than usual. You start off with Level 1, then slowly, as you exercise more, you gain more points and level up more.
Pros
Unique points and leveling system, and a leaderboard for all Fitocracy users by month/all time/day
Quests for you to do that contains a workout – will give you more points than usual
Able to make your own workout out of things you want to do
Huge database of exercises
Able to befriend your friends on the app
Cons
Internet connection required to end workout
Discussion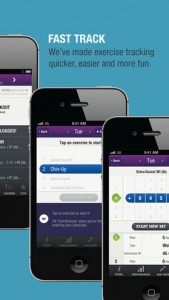 Fitocracy is a really useful app for anyone who wants to exercise to make themselves more fit. You can choose from an array of exercises and compile them to make your own unique workout perfect for you. If you want a friend to exercise with, their friend system will definitely help, especially if you are someone competitive. The amount of points your friends have earned will be displayed on your feed and therefore, if you are competitive, you will also exercise more to level up quickly.
There are also unique quests that contains workouts. If you can do it, then do it! It gives you more points than usual and speeds up the time you normally take to level up. Additionally, exercise releases endorphins in your body which makes you feel happier. There is also a leaderboard for all Fitocracy users, and people are more motivated to exercise if they can go a notch up on the leaderboard. It is a really fun, game-like app that helps with your fitness.
The downside of Fitocracy, however, is that Internet connection is required to end the workout and get the points your workout is worth. Therefore, if you are someone without a data plan and you exercise outside of home or anywhere without Internet connection, it will be quite troublesome for you as you will have to remember that you have done the workout until you reach home. However, you can also  record your workout in Fitocracy first, and when you reach home, just hit End Workout.
CONCLUSION AND DOWNLOAD LINK
I really like Fitocracy. Their point system makes people who have gained points feel very accomplished. I'm someone with low stamina and tolerance, so when I make my own workout, I simply add burpees, sit-ups, and crunches in it and do a lot of these three, because these are the ones I'm the most familiar with. Thanks to Fitocracy, I don't have to get equipment or anything expensive either. You should definitely get off your lazy ass and try it out.
Price: Free
Version reviewed: 1.1.1
Requires iPhone/iPad/iPod Touch, iOS version 4.3 or higher
Download size: 16.3 MB
Related Posts