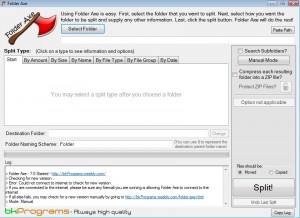 Do you have some large folders on your computer that you wish you could easily split up into smaller folders? Well now you can with Folder Axe. The program was made with this one propose in mind, and it allows you to accomplish this goal in many different ways.
WHAT IS IT AND WHAT DOES IT DO
Main Functionality
Folder Axe allows you to break up large folders into smaller ones. The great thing about the program is that it allows you to break up these large folders in many different ways. It is feature rich and gives you complete control over what you are doing.
Pros
Split large files by amount, size, name, file type, file group or date
Option to compress your new small folders into ZIP files
Allows you to protect the ZIP files you make with AES-256 bit encryption
Set up your own personal naming scheme for the resulting folders
Option to undo any split that you make to return a folder to its original form
Offers automatic updates
Log windows keep you up-to-date with everything the program is doing
Cons
Program is not very visually appealing, kind of bland
The many options can actually be intimidating during your first few uses
Discussion

Folder Axe is a simple program with one goal: to break up your large folders into smaller ones. Yes, this is something that you could do yourself, but Folder Axe makes it quicker and easier. Not only that, but the program gives you tons of options when it comes to "splitting" your large folders.
Let's talk about how the program allows you to break up your large folders into smaller ones. When you first start up the program, you need to choose a folder that you want to split. After that, you need to choose how you want to split the folder up. This is where it can get kind of tricky, because there are so many options available to you.
Split folder by Amount – allows you to specify the number of files that will go into each resulting folder
Split by name – allows you to create folders based on the first (x) number of charters in a file's name
Split by size – specify just how large you want each resulting folder to be
Split by file type – creates different folders for each file type in the large folder
Split by date – splits files into different folders according to the date they were last modified or created
Split by file group – allows you to split files into seven different groups
As you can see, there are tons of ways you can break up the folders on your computer. However, the features of Folder Axe don't stop there. You are also given a number of other options like the ability to include your files in sub-folders, ZIP all resulting folders, undo any splitting procedure that you performed, and even protect all of your ZIP folders with AES-256 bit encryption.
The only problem I could see someone having with this program is the fact that it offers almost too many options for the simple task that it performs. All of these options may actually be kind of intimidating to basic users who just simply want to break up their large folders quickly.
CONCLUSION AND DOWNLOAD LINK
Folder Axe is a great program and does a great job of splitting up your large folders. There are tons of options (maybe too many at times) so you can rest assured that you can break up your folders anyway you want to. If you're looking for a quick and easy way to break up large files Folder Axe is for you.
Price: Free
Version reviewed: 7.0
Supported OS: Windows XP / Vista / 7 (.NET Framework 4.x needed)
Download size: 920KB
VirusTotal malware scan results: 0/44
Is it portable? No
Related Posts