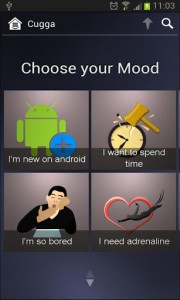 Cugga App Market is a unique way to find new apps. This market is perfect for those who have difficulty finding apps that reflect their current status. It is also great for those who need a more personal way of finding new applications.
What is it and what does it do
Main Functionality
The main functionality of this market is to simply find you new apps you've never heard of. It is the unique categories that this market uses that make it so unique.
Pros
Find apps by mood
Find categories based on your interests
Apps are grouped according to demographic
Easy to use and fast UI
You don't download directly from Cugga, Cugga sends you to Play Store to download the apps you find
Cons
Sometimes slow to load apps
UI somewhat childish
Some instability
Discussion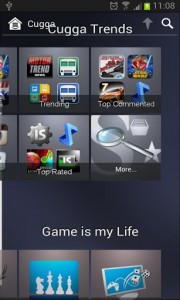 Cugga App Market takes an entirely new approach to app discovery. The entire concept behind the app stems from the desire to make it easier to discover apps. Due to the rapidly increasing number of apps available in the Google Play Store, it is becoming harder and harder to find the apps you are looking for. Cugga App Market hopes to end these problems by creating a concise, and logical way of discovering new apps.
The most basic way to use this market is to browse the apps by your mood. That's right, this market lists apps by mood. The types of moods available should match nearly anything you are feeling. These moods include boredom, full of energy, and even the desire to kill time. Additionally, this app has tons of other categories that you can access based on your interests. Such interests include sports, nature, etc.
Cugga App Market will also sort the apps by demographic and genre. This means that once you've chosen a mood or category, you can further specify the apps you're looking for. Possible sortings can be based on your age or other distinguishable characteristics. Additionally, this market will show you which apps are trending, so you can easily see the popular apps.
Unfortunately, there are a couple drawbacks of this market. For starters, the user interface can appear to be quite childish. This is undoubtedly due to the fact that the developers wanted the market to be as simple and as easy to use as possible. However, a little more professionalism would be nice. Additionally, this app can be incredibly slow and buggy. Sometimes it takes quite awhile for apps to load and there are plenty of force-closes to make things worse.
Conclusion and download link
Overall, this market can really change the way you view apps. If this app were to get the bugs fixed along with a minor face lift, then it could actually replace most users' current app sources. This is the first time any developer has actually recognized the fact that certain apps can imply certain moods. The fact that this concept is being put front and center shows that this app has fantastic potential.
Price: Free
Version reviewed: 1.18
Requires: Android 2.2 and up
Download size: 1mb
Chugga App Market on Play Store
Related Posts