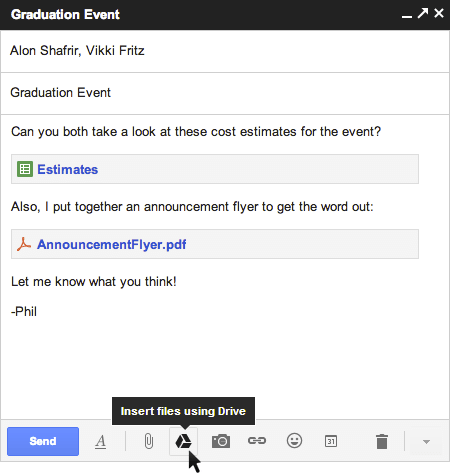 With features like forgotten attachments reminder, threaded discussions, etc., not very many people will argue if you tout the superiority of Gmail over rival emailing services. And today Google has improved Gmail — by integrating it with Google Drive.
Google Drive is Google's cloud storage service the search giant launched back in April of this year. With Google Drive, users can store any files they want and access these files from any device that has an activate internet connection; files can even be shared with others. On Tuesday Google integrated Google Drive into Gmail, allowing users to "attach" files stored their Google Drive accounts in their emails.
What happens with this new feature is Google has added an 'Insert files using Drive' button to Gmail's e-mailing interface (see screenshot above). When you click that button, you can select the file stored on your Drive account that you want to attach and "insert" the file into the email you are sending. (You can also upload a new file, if you wish, instead of selecting an existing file.) You aren't actually attaching the file per se; you are simply attaching a link to the Google Drive file — a link the recipients of your email must click on to access the file. While this may sound like a small nuance, the advantage of this new integration is you can now share files as large as 10GB via email.
Yes you heard that right. You essentially now have the ability to send attachments as large as 10GB via email. Of course this same thing can be done with other e-mail services. Since you aren't technically attaching files to emails with this new feature but rather only linking to the files, you can, in theory, manually grab links to files stored on Google Drive that you want to share and insert them in emails for other email services. However, having Google Drive integrated into Gmail makes it a lot easier and quicker. And there is one other advantage, too.
Much like Google Docs, Google provides users with the explicit ability to share (or not share) a file stored on Google Drive. With this new Google Drive integration with Gmail, Google automatically checks any files you attach in emails via Google Drive to make sure you allowed the files to be shared witheveryone. If you have not, Google prompts you to remind you that you must modify the file access permissions for the attached file(s), otherwise the people you send the file(s) to via email will not be able to access them: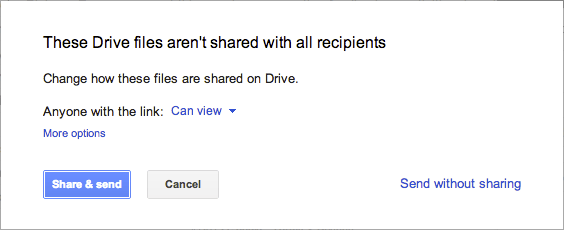 Now, as handy as this new feature sounds, there are two caveats:
How large attachments you can send via Gmail using Google Drive is limited by how much space you have on your Google Drive account. In other words, if you are using the free version of Google Drive (which limits you to 5GB of storage), you obviously won't be able to send files larger than 5GB because you won't be able to store them on your Google Drive account. The bottom line is you can only send what you have stored on Google Drive.
This new feature is available only in Gmail's new compose window. People hanging on to the old interface will not have it.
This new Google Drive integration with Gmail will be rolling out to Gmail users across the world in a few days. And, despite the caveats, I feel safe in saying: Gmail. Just. Got. Better.
[via Google]
Related Posts