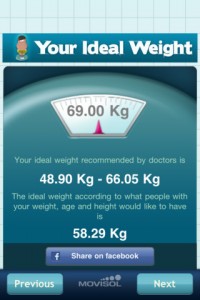 Your Ideal Weight is an iPhone app developed by Movisol. If you feel overweight or underweight, this clever app can tell you whether your current weight is a healthy one.
What is it and what does it do
Main Functionality
Your Ideal Weight determines what you should weigh, based on your age, height, and gender. For dieters and body dysmorphic people alike, this app is a useful tool for determining what weight really is healthy and appropriate for you at this stage of your life. You can also track how your weight changes over time, to help you reach any weight loss (or weight gain) goals (requires additional in-app purchase.)
Pros
Simple questionnaire is easy to fill out, and includes information in between questions to help users understand why certain information is important
App also includes table of calories for common baked goods, condiments, fruit, dairy, protein, and more
Weight can be precisely entered in pounds and ounces
Supports weights of up to 445 lbs
Weight range is based on both doctor recommendations, as well as what other people in your age group think is an appropriate weight
Cons
Weight tracker for your BMI is an additional purchase, costs $2.99
Supported with banner ads with no way to turn them off
Can't enter your weight or height in fractional measures (for example, 5 foot 5 1/2 inches)
No way for users to input lifestyle information that might affect their weight (such as average physical activity, profession or chronic illness)
Discussion
Your Ideal Weight is great for quickly assessing that you (or a loved one) is within a healthy weight range. It's a tool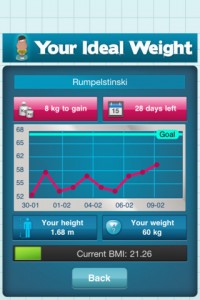 that can benefit dieters, as well as those who are underweight due to anorexia or bulimia. The app is simple to navigate, but it has some room for improvement.
For example, it's frustrating that you have to pay $2.99 to upgrade the app's weight tracking feature. Admittedly, you could use any number of other free apps to track your weight, but it would be nice to have the tracker and the ideal weight calculator in the same app, don't you think?
It's also annoying that the BMI plays such a large role in Your Ideal Weight's suggestions. The BMI has come under fire from many people in recent years for being outdated. I read somewhere once that a muscular dude like Brad Pitt technically registers as overweight on the BMI scale, simply because of his buff physique.
It also seems like info for certain chronic diseases might be important. For example, the acceptable weight range for a diabetic person or heart patient is likely a bit more narrowly defined than someone who is healthy.
That being said, the acceptable weight range suggested for my height and age was totally what I expected it to be, and didn't seem to be verging on "too skinny." For people who don't know whether their current weight is a healthy one, this is a quick way to check.
Conclusion and download link
Bottom line: Your Ideal Weight is a decent free app for most people to make use of. However, be aware that your BMI may seem to indicate that you are obese when you are not in some cases, particularly if you have very developed musculature. That's more of an issue with the BMI system than with the app itself, but it would be nice if this app took lifestyle information into account before passing judgement.
Price: Free
Version reviewed: 2.2
Requires iPhone/iPad/iPod Touch, iOS version 3.0 or later
Download size: 10.3 MB
Your Ideal Weight on Apple App Store
Related Posts