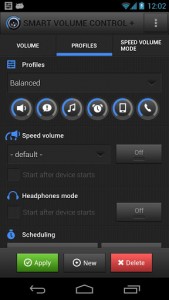 Smart Volume Control is an app designed to give you total and complete control over all of the volumes on your phone. This app is perfect for people who need to constantly have different volumes on their phone. It is also great for those wishing to customize the volume profiles more.
What is it and what does it do
Main Functionality
The main purpose of this app is to give you features and control over your volume that you didn't have before. It is designed to make dealing with your phone's sound much easier.
Pros
Fully customizable volume profiles
Setup Volumes, Bluetooth, WiFi, Mobile data, Aeroplane mode, Call forwarding, Screen brightness, and Ringtone
Control volume for specific contacts
Change profiles according to location, time, or calendar
Speed volume mode and headphones mode
23 widgets
Cons
Ad supported
Cannot set a turn off time for profiles set according to time
There are Lite (Free) and Pro versions of this app. The Lite version is limited in functionality, such as you can only use speed volume and headphone modes for ten minutes before they are automatically disabled.
Discussion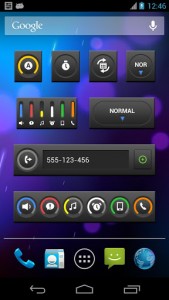 Smart Volume Control is an app designed to give you control over your volume that you may not be used to. This app will allow you to fully customize any volume profile. This means you can have a series of profiles that will vibrate, ring, be silent, or any combination of those for any phone call or notification you receive. It will also give you basic access to functions such as WiFi, Bluetooth, and Airplane Mode.
This app will also allow you to assign custom volume profiles to specific contacts. This means that you can use any combination of ringers and vibrations to alert you for any specific contact. You can also have your phone automatically adjust your profile depending on the time, your location, or a certain event in your calendar. This app will also give you 23 fantastic widgets to give you complete volume control on your homescreen.
What truly sets this app apart is that it offers speed and headphone modes. In speed volume mode, the volume will adjust based on the speed you're traveling. This is perfect for when you are in public transportation or in a long car ride. It completely prevents you from having to constantly adjust the volume manually. In headphone volume mode, if the headphone cord suddenly becomes unplugged, all of your volumes will mute so you don't have to worry about disturbing people around you. Additionally, it will restore the volume once you plug the headphones back in.
There is but one major flaw I found while using this program. This particular downfall lies within the feature that will automatically adjust your volume profile based on time. As it stands, you can set the app to automatically change your volume profile starting at a certain time. However, you cannot have it change back after a certain time. For example, if you are on your lunch break from 12-1pm. You will have your volume adjusted at 12, but not readjusted at 1. The only way to solve this is by setting up a different rule to have it change back at 1pm.
Conclusion and download link
Overall, this newcomer is miles ahead of already developed application in similar categories. This app is incredibly simple and easy to use while simultaneously packing nearly every feature you could want. While there is one major downfall, it only adds a minor inconvenience and can be easily remedied, making the list of reason not to use this app almost non-existent.
Price: Free (Lite), $2.49 (Pro)
Version reviewed: 1.0.4
Requires: Android 2.1 and up
Download size: 6.5mb
Smart Volume Control on Play Store
Related Posts