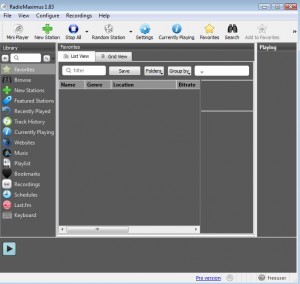 Looking for a great portable internet radio program? Well, you may want to give RadioMaximus Portable a try. This program allows you to listen to podcasting and the radio free, wherever you want. You can also choose to record what you are listening to so you can listen to it on other devices.
WHAT IS IT AND WHAT DOES IT DO
Main Functionality
RadioMaximus Portable is a free program that allows you to listen to radio stations for free. Since the program is portable, you can install the portable version of this program to a USB device and take it with you on the go. Best of all, you can record what you are listening too and choose multiple output formats.
Pros
Portable and non-portable versions included in the installer
Records in different formats (MP3, ACC, OGG, and WMA)
Can be run from a USB device
Save all of your favorite stations
Schedule automatic recording
Listen to music, news and sports stations all over the world
Music came in clearly on every currently active station that I tried
Cons
Have to upgrade to pro version to get all the features ($20)
Discussion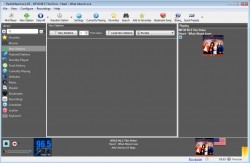 Listening and recording what is on the internet seems like it should be an easy task. In fact, there are a lot of programs out there that allow you to do just this. However, so many programs fail to deliver a truly great experience. I am happy to say that, not only did RadioMaximus Portable work great, but I actually enjoyed using it.
Before we get into the great features of the program, let's talk a bit about what I didn't like. The only problem I really found with the program was the fact that you can't use all of the features in the free version. The good news is, they only limit three options: Play multiple stations at the same time, Play LastFM stations, and "show new stations". Everything else seemed to work great.
Now that I got that out of the way, let's dive into what this program can do. First of all, when you download the program, you are going to get one installation file. When you click to run it, you can choose either the portable version or to install it to your computer. If you do choose the portable version, which is what I did, you can choose to save the files it makes to a USB device, like a flash drive.
After that, you are good to go. Simply run the program from wherever you had it "unpack" to. From there, you can start finding your favorite stations. The best way to start is to go to click on "Search" on the toolbar at the top. Then just choose the area of the world you want to find a radio station. For example, you could choose: North America / United States / Florida. This will bring up a huge list of radio stations that play in that state. This same search method can be used for other areas of the world as well.
When looking through the stations, you will see that a lot of information is displayed about each station. For example, the most common information displayed about each station is: Name of the station, genre, location of that station, bitrate, stream type (like MP3, AAC, etc.), and if they provide Meta information.
If you come across music you really like, you can record it right from this program. Once the song starts playing that you like, click the record button. When the song stops, click stop. It is that simple! You can even choose what file type you want the recorded music to be formatted to. You can choose MP3, AAC, OGG and WMA.
CONCLUSION AND DOWNLOAD LINK
RadioMaximus Portable is a great program, and I highly recommend it for people who are looking for a great way to listen to live radio on their computer. Yes, there are many other programs out there that offer these same features, but I loved how easy RadioMaximus was to use. The fact that it is portable, allows you to record and offers radio stations from all over the world is reason enough to give it a try.
Price: Free
Version reviewed: 1.83
Supported OS: Windows XP / Vista / 7
Download size: 17.33MB
VirusTotal malware scan results: 1/46
Is it portable? Yes
RadioMaximus Portable download page
Related Posts