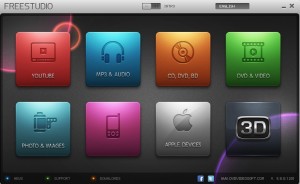 If you have ever heard of DVDVideoSoft, you already know that they offer a ton of free video, audio and image tools. Downloading all of them not only takes a lot of time, but it is frustrating having to search for each program you want. It would be easier if all of these programs were put together in one, easy-to-navigate program. Well…now they are with Free Studio.
WHAT IS IT AND WHAT DOES IT DO
Main Functionality
Free Studio is a collection of 48 DVDVideoSoft tools:
Free YouTube Download
Free YouTube to MP3 Converter
Free YouTube to iPod and PSP Converter
Free YouTube to iPhone Converter
Free YouTube to DVD Converter
Free YouTube Uploader
Free Uploader for Facebook
Free Video to Android Converter
Free Video to Apple TV Converter
Free Video to BlackBerry Converter
Free Video to HTC Phones Converter
Free Video to iPad Converter
Free Video to iPod Converter
Free Video to iPhone Converter
Free Video to LG Phones Converter
Free Video to Motorola Phones Converter
Free Video to Nintendo Converter
Free Video to Nokia Phones Converter
Free Video to Samsung Phones Converter
Free Video to Sony Phones Converter
Free Video to Sony Playstation Converter
Free Video to Sony PSP Converter
Free Video to Xbox Converter
Free Video to Tablet PC Converter
Free DVD Video Converter
Free Video to DVD Converter
Free Video to Flash Converter
Free 3GP Video converter
Free Video to MP3 Converter
Free Video to JPG Converter
Free Audio Converter
Free Audio to Flash Converter
Free WebM Video Converter
Free MP4 Video Converter
Free AVI Video Converter
Free HTML5 Video Player and Converter
Free DVD Video Burner
Free Disc Burner
Free Audio CD Burner
Free Audio CD to MP3 Converter
Free Screen Video Recorder
Free Image Convert and Resize
Free Video Dub
Free Audio Dub
Free Video Flip and Rotate
Free 3D Photo Maker
Free 3D Video Maker
All of these programs can be downloaded individually, but Free Studio provides them in one program. This saves you from having these tools all split up into multiple areas on your computer. Not only that, but it makes working with these tools on the same project feel seamless.
Take note that while technically there are 48 programs combined into one, many of these programs have similar or overlapping functionality… so much so that I have categorized them into eight tools for the purpose of this review.
Pros
Gives you access to a number of tools all rolled up into one easy-to-use program
Flashy intro (which can be turned off), and the whole program is nicely organized and very pleasing to look at
Eight tools included in this program. They are represented by eight buttons that say: YouTube, MP3 and Audio, CD – DVD – BD, DVD and Video, Photo and Images, Mobiles, Apple Devices, and 3D.
Con
Tries WAY too hard to get you to download DVDVideoSoft's Toolbar and other unnecessary bloatware programs (you can avoid, but still very annoying) — be careful to watch out for this bloatware
Big program. Although the download is only 63MB, it requires that you have over 278MB free to install this program. This may be why the installation took a bit longer than expected.
Some tools are listed under more than one button. So there are actually less features than what you may first believe. Either way, there is still tons of stuff here.
Requires .NET Framework 2 SP2
Discussion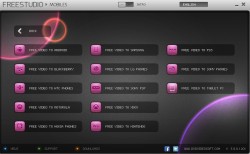 The first thing that you will notice about Free Studio is the fact that it takes a lot longer than you would expect to install. Alright, maybe the first thing you actually notice is the fact that the program tries to get you to install other things you don't want…but hey, it is easily avoided. Either way, the program downloads pretty quickly (being only about 63MB), but when it is fully installed this thing takes up a staggering 278MB. It is completely free, but still, that's one big program.
When you finally do get the thing installed, you can launch it right away. After that you will be greeted by a fancy opening followed by eight large buttons. Each of these buttons represents a different set of tools. Let's break these buttons down:
YouTube – for downloading from and uploading to YouTube
MP3 and Audio – for converting audio, burning music to CDs, ripping music from CDs, cutting audio files, etc.
CD, DVD, and BD – for creating DVDs, converting DVD video to other formats, dubbing, etc.
DVD and Video – for watching videos, converting HTML5 to video, flipping videos, rotating videos, splitting videos (without re-encoding) etc.
Mobiles – for creating videos, audio and other things to be watched on mobile devices
Apple Devices – for creating videos, audio and other things to be watched on Apple Devices
3D – for creating 3D movies and images
From what I tried, all of the tools worked just fine. I did not get to test the 3D tool, because the 3D produced needed 3D glasses, and I did not have any handy. However, I assume that it works just as well as the other features I did get to test out.
The Mobiles tool was pretty cool. It allowed you to convert videos to play on many different devices. This included the Sony PSP, the Nintendo Wii (which isn't portable…but whatever), Android devices, and so on.
CONCLUSION AND DOWNLOAD LINK
The program is huge, but it is very straightforward and easy to use. I enjoyed using most of the features, and they all seemed to work well (except for the 3D that I did not get to test). All in all, I think this is a great bundle for anyone who is looking to combine a few of their programs into one.
Price: Free
Version reviewed: 5.8.0.1.1201
Supported OS: Windows
Requires .NET Framework 2 SP2
Download size: 63.67MB
VirusTotal malware scan results: File too large to scan
Is it portable? No
Related Posts