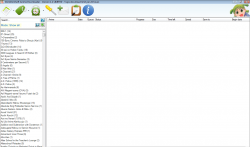 DomDomSoft Anime Downloader is a program used to download your favorite anime episodes for free. For those of you who do not know, "anime" in English is used to define a style of animation, usually animation that has originated from Japan. This is the basic idea behind anime, but the definition can vary slightly depending on its context.
WHAT IS IT AND WHAT DOES IT DO
Main Functionality
DomDomSoft Anime Downloader is a program that makes downloading your favorite anime episodes easy. The download speeds are quick, the quality is great and they even offer a small description of every anime, which you can read before downloading. Best of all, it is free to use (even if you are limited to 5 downloads a day).
Pros
Huge list of anime shows to download from
Download speeds are surprisingly fast
A small description can be found on every anime after clicking on it, making DomDomSoft Anime Downloader a great way to learn about new animes
Cons
Free version is limited to 5 episode downloads per 24 hours
Every anime I tried was in Japanese with English subtitles (this is how many people prefer to watch animes, but I prefer dubs)
Is this legal?
Discussion
DomDomSoft Anime Downloader is yet another program on the market that can help you download animes quickly and easily. However, unlike many of the others, this one is free to use. Yes, there is a limit on the number of animes you can download every 24 hours, but it is still a fair deal when you consider what you are getting.
First, let's take a longer look at the limit. You can download 5 anime episodes every 24 hours for free. Since most animes are around 20 to 25 minutes in length, that is 100 to 125 minutes of free anime every day. Really, that is not too bad of a deal. Of course, this limit can be removed by upgrading to the Pro version. If you really enjoy the program, the amount of money they are asking for the Pro version is not too bad. It's $3.95 for a 3 months license or $10.95 for a full year.
The download speeds on the free version are extremely quick. I was able to download 3 full animes in under 3 minutes. Not bad when considering that each of these animes ranges between 200MB to 300MB (depending on the format).
My biggest problem with the program is something that other people are going to love, and that is the fact that every anime that I downloaded was subtitled. I am assuming that it is that way for all of them, meaning that you won't find any dubbed animes here. People who are really into animes usually prefer to watch them with the original Japanese voices. I understand that, as it gives it a more authentic feel. Some English voice actors also aren't very good. However, I still enjoy dubbing more. Thus, if that is something you are looking for, you are not going to get it here.
Besides that, you are going to be able to find just about every anime you want to watch with this program. If you are new to the anime scene, this is a great starting point. Pick a few series that sound interesting (by reading the description), and download an episode or two from each. That way you can find a series that is perfect for you without having to download the whole series.
CONCLUSION AND DOWNLOAD LINK
DomDomSoft Anime Downloader is a great program. That being said, I know that it is not going to appeal to everyone. I mean, if you're not into animes and not willing to give them a try, this program does no good. For everyone else, it is a great pick up and a great way to stay up-to-date with your favorite animes.
Price: Free
Version reviewed: 1.2
Supported OS: Windows XP / Vista / 7 / 8
Download size: 2.2MB
VirusTotal malware scan results: 0/42
Is it portable? No
DomDomSoft Anime Downloader download page
Related Posts