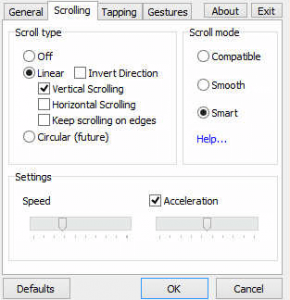 Touchpads on laptops are supposed to be helpful. However, far too often do they become a pain to use. If you ask me, nothing beats a good old mouse. Of course, if you don't have an option but to use your touchpad, why not make it easier on yourself. Well, that is just what TwoFingerScroll is set up to do!
WHAT IS IT AND WHAT DOES IT DO
Main Functionality
TwoFingerScroll is supposed to help make your life easier by simplifying the touchpad process. This program will help make your touchpad less "clumsy" and feel more natural. It offers a number of features, including double-tap with one finger while dragging with another, horizontal two-finger scrolling, and even palm detection features for scrolling and tapping.
Pros
Makes scrolling with your touchpad smoother
Palm detection to help with scrolling and tapping
Horizontal two-finger scrolling supporter
Three finger gestures to bring up Alt+Tab
Supports double tapping with one finger while dragging with another
Cons
Commonly gives the "Class not Registered" error when trying to load the program. Fixing this error often means downloading more programs just to get this one to work.
Discussion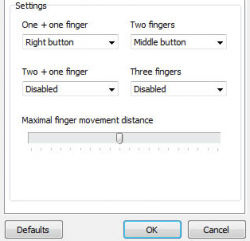 TwoFingerScroll is a great program if you are stuck using a touchpad for whatever reason. There are just some things on a touchpad that feel clunky when compared to using a mouse. The good news is you can help simplify this problem with TwoFingerScroll. The bad news is this program may not be worth the hassle to get set up.
Before I start hating on the program, let's cover the good things it does. The program has many features that make using your touchpad a much more enjoyable experience. For example, the program makes scrolling with your touchpad smoother. It also supports horizontal two-finger scrolling, three finger gestures to bring up "Alt+Tab", and even supports double tapping with one finger while dragging with another. It does all of this stuff flawlessly.
The problem comes when you try to run TwoFingerScroll. According to many online forums, you have about a "50/50" chance of getting the "Class not Registered" error. If you get this, fixing it can be a real pain. No, there is nothing wrong with the software, but it means that you probably don't have certain drivers on your computer updated. For example, updating your touchpad drivers may fix this problem. On the other hand, it may not. Really it is a hit or miss.
It is this error that keeps the program from being perfect. If it was a rare happening, I could look beyond it. However, it seems to happen to a ton of people online (including me). I don't use my touchpad enough to try and figure out why this program is not working. In order to do this review, I went through multiple "methods" online to get the program to work. After trying a few of them I finally got it working. However, it is a process that I would not wish on others. If you use this program, hopefully yours will work or at the very least be fixed easier than mine. For some people, it is a quick fix. For others…all I can say is sorry, but you have a long night ahead of you.
CONCLUSION AND DOWNLOAD LINK
TwoFingerScroll is not a bad program. When it was working I did truly enjoy it. It is for that reason that I at least recommend you download the program to see if it works without you having to "tweak" it. If it doesn't work on its first attempt or after a quick update of your drivers, I would recommend passing because it ain't worth it after that point.
Price: Free
Version reviewed: 1.0.6
Supported OS: Windows XP / Vista / 7
Download size: 282KB
VirusTotal malware scan results: 0/39
Is it portable? Yes
Related Posts