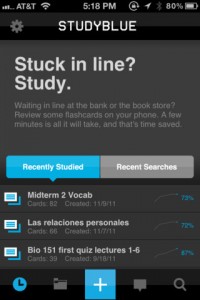 Sadly, I didn't get my first iPhone until after I was out of college. It's too bad, because I would have loved an app like STUDYBLUE when I was still in school. STUDYBLUE makes it easy to study for your courses while you're on the go, during even very short blocks of time. As they put it, "Stuck in line? Study." If you are waiting for the bus, standing in line at the store, or waiting for water to boil, you can use these tiny chunks of time to make a big dent on your study time.
What is it and what does it do
Main Functionality
STUDYBLUE lets users create virtual flashcards, quizzes, or study guides to use on the go. Your cards can contain text, photos, and even audio. The app also lets you take a test based on your flashcards, and tracks which answers you got right. You can also close out of the app, and then restart your study session at a later date from exactly where you left off.
Pros
Tons of ways to create your flashcards. You can find online flashcards and notes from millions of classmate-created materials, or connect with people who are actually in your class with you.
Strong design
Flashcards can contain text, pictures, and audio: perfect for science majors and language students.
Built-in ability to create study alerts to help you stay focused on learning concepts before the date of your next exam
"Study saver" lets you stop a review session and resume it later on
Over two million users worldwide, over one million cards created every week
The American Association of School Librarians (AASL) has recognized StudyBlue as a 2012 Best Website for Teaching and Learning.
Cons
You have to create a new account. It's free, but it's also an annoying extra step between you and your study time.
Creating flashcards in the app requires an Internet connection.
 Some features, such as advanced filters and hiding cards, require a StudyBlue+ account. Prices vary, but expect to pay under $30 per year.
Discussion
I'm one of those people who finds it hard to get motivated to work on project when I know I only have 15 minutes between now and my next appointment. But those 15-minute (or less!) chunks of time add up quickly, and I love the idea of an app that lets you find meaningful ways to study during those tiny blocks of time.
STUDYBLUE is a really high quality app. It's thoughtfully designed, and just plain looks pretty. It's gotten rave reviews from academic groups and digital media outlets alike, and it's not hard to see why. This app is a great blend of smart concept and smart execution.
I love the breakdown of the quizzes. You can see how you are progressing with the learning of new material over time, thanks to a simple use of red and green dots. It's easy to take in all of your performance data at a glance, and that makes it easy to know where you need to focus your study efforts for next time. If only I had this app in college, I would have made the Dean's list every semester.
Conclusion and download link
While some features require you to put up a little cash, STUDYBLUE works great with just its free features. It's simple to use, and is a great tool for digital natives of high school and college age to master the materials that they will be tested on. A must-try app for any student, of any intelligence level, on any career path.
Price: Free (some features require paid subscription)
Version reviewed: 6.6
Requires iPhone/iPad/iPod Touch, iOS version 4.3 or later
Download size: 6.4 MB
Related Posts