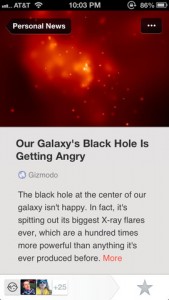 Flud News is an iPhone app that aggregates news from around the web and delivers it right to your phone. While it works great for the average person looking for a Flipboard-like iPhone app, Flud News is also specifically designed to appeal to companies who want to share news with their entire staff with ease, as well as marketing teams who need to have a shared appreciation of current trends.
What is it and what does it do
Main Functionality
Flud News allows users to set up secure company newsfeeds, though it also works as a news-gathering tool for individuals as well. Corporate users can use the app to share company-wide memos and corporate intelligence, while individual users can shares news articles through Facebook and Twitter. Flud News pulls interesting news from major news sites, but also allows users to follow other uses.
Pros
Private and secure for corporate users who want to keep everyone in the loop without risking a news leak to the public
Easy to filter news sources based on which sites you like and trust the most
Free and fairly easy to set up
Latest version includes app enhancements for increased speed and stability
Cons
During your account setup, you are automatically assigned about 20 people to follow (and you have to unfollow each manually if you don't know/have no interest in them)
Interface is somewhat squashed: you can only look at one (or one and a half) headlines at a time as you scroll down the main screen (on pre-iPhone 5 phone models)
If you open another app or receive a call when setting up your account, you will have to start the whole process over again (also, you HAVE to upload a user pic for your avatar, and the pic must already be on your Camera Roll.)
Not quite as pretty or easy to navigate as Flipboard (your tastes may vary)
Discussion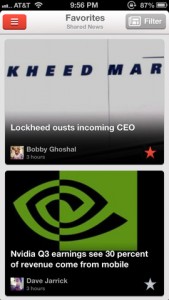 Though it's new to me, Flud News has actually been around since 2010. Flud was named Best UI design of 2010 by Fast Company. Despite getting coverage when it launched in news sources like The New York Times, Wall Street Journal, Forbes, and Fortune, this app totally went under my radar when it came out initially.
Despite being under my radar, Flud is far from underwhelming. In spite a somewhat annoying setup process that automatically makes you follow people who share your interests, I was pleasantly surprised at the breadth of great news from sources big and small. I also really approve of the Filter function, which lets you block out news from sources you don't like or trust.
I was watching an old episode of "Parks and Rec" last night, and it had a scene that seems relevant to discuss here. One character told Leslie Knope, "It doesn't matter who's idea was first, it matters who's idea was best." Flud News may have come out a year before Flipboard, but having used both apps, I think Flipboard is the better app. It's visually more appealing, a bit easier to use, and generally more fun to browse. I will concede that Flud News offers better customization options in an easier to use menu, however. And for corporate communications, Flud is likely also the best option of the two apps.
Conclusion and download link
If you're looking for a corporate communications app, Flud News is a great choice because of its secure, private nature. For individual users, it's a bit more of a toss-up. Flud is a solid app for news gathering, but many iOS users may prefer the look of Flipboard to Flud. Still, I'd say give Flud a try: it's a good option!
Price: Free
Version reviewed: 3.20
Requires iPhone/iPad/iPod Touch, iOS version 5.0 or later
Download size: 6.9 MB
Flud News on Apple App Store
Related Posts