Although I don't use a Windows 8 touch-screen device, I really like to use some Modern UI apps — which are optimized for touch users — for my daily work. One of them is the Reader app, which helps me to view PDF documents with basic functions. Additionally, it is pre-installed with Windows 8 meaning I don't have to go anywhere to download another PDF viewer.
When using keyboard and mouse to perform the printing action, it's very simple; but I was confused about printing in Modern UI apps on a touch screen device because I didn't know how to do this. Finally, I figured out how to print in Modern UI apps. In this article, I will share with you this knowledge.
HOW TO PRINT IN A MODERN APP ON TOUCH-SCREEN DEVICES
On a tablet, you may not have a keyboard to press a hotkey for printing; so what you have to do is focus on the Charm bar.
To show the print control panel in Modern UI apps, you should follow these steps:
When in a Modern UI app that supports printing (e.g. Reader app or Modern UI Internet Explorer), you have to swipe from the right corner then choose "Devices."
If your printer is already connected, you can see its name in the Devices panel. You may want to tap the word "More" to show your unconnected printer.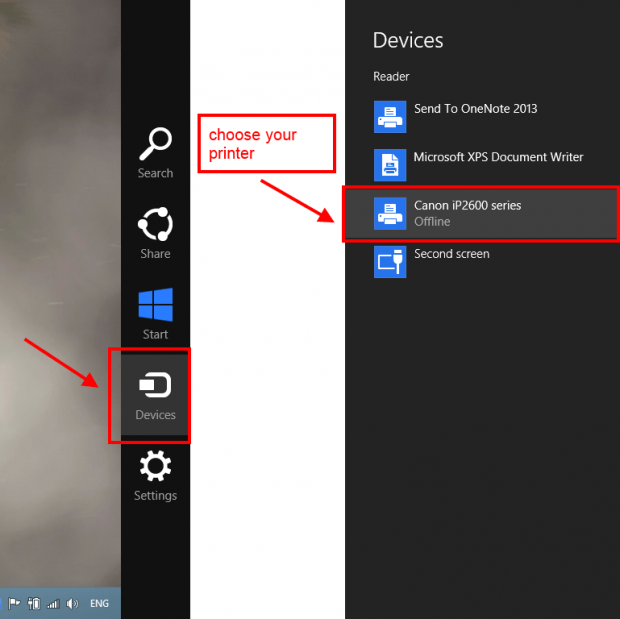 After that, you should choose the printer you want to use. There will be brief settings for printing a paper. If you want to have detail settings such as color mode and orientation, you have to select "More settings."
Finally, tap Print button to print your document.

HOW TO PRINT IN A MODERN APP BY USING HOTKEY
To fire the print function on a non-touch Windows 8 device, it's super easy because you just need to press Ctrl + P hotkey. By using this hotkey, the print settings panel will show up. Then, what you have to do is change the settings you want and click Print button.
CONCLUSION
I think that a lot of touch-enabled Windows 8 users don't know how to print in a Modern app. Hope this article will resolve your problem.
Related Posts