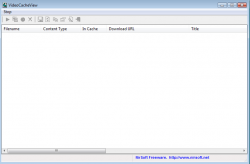 Have you ever watched a video online only to be unable to find it later? Don't you wish there was a way that you could pull up all of the videos you have watched online automatically? Well, now you can thanks to VideoCacheView. This is a program that can search your browser's cache for all of the videos you have watched online. You can then save those videos to watch in the future. The days of surfing for videos you want to re-watch are over.
WHAT IS IT AND WHAT DOES IT DO
Main Functionality
For most online video streaming websites, when you view a video, the video is downloaded to a temporary location in your browser's cache. VideoCacheView is a program that simply searches your browser's cache for videos that you have watched online. Once found, you can save the videos to a permanent location (before your browser deletes the videos from the temporary cache) and view the videos with any video player you have installed. This works with most major video streaming websites, including Youtube.
It is a portable program that does not have to be installed. It is also very small. Due to its small size, it is unable to play the videos that it finds, and you will have to use one of your other video players to do so. However, it does help you save the videos its finds to your computer.
Pros
Searches your browser's cache for videos you have watched online
Videos that are found can be saved to your computer to view offline
Portable, no installation required
Extremely small, which adds to its portability
Can run this program without closing out your browser
Supports Firefox, Chrome, Internet Explorer, and Opera
Cons
Some files may be unavailable to play (pretty rare)
Finding one specific video can be a real pain
Discussion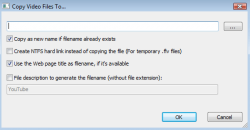 There is one thing that got me to try VideoCacheView, and that is the fact that the program is portable. I always prefer programs that do not have to be installed over ones that do. This goes double when the program has such a simple function as VideoCacheView.
After downloading and unzipping the program, I noticed how small it was. This adds to its portability. You can easily stick this on a USB drive and take it with you wherever you go. It did not seem to be too demanding on my computer's resources, which is good since it is such a small program. I was also able to run it without closing out by browser, which some other video cache viewers made me do.
The way the program works is simple. As soon as you start it, you are going to see it start populating a list of videos. These are videos that the program has found in your computer's cache. Sometimes this list can take a bit of time to complete, so be sure to let it run its course. As it finds videos, they will either come up normal or with a red tint. If they have a red tint to them, this means that a video name was found, but it is not available for download. This only happened on a few videos that came up in my list, so it was not really that big of a problem for me.
The two biggest problems I had with the program was the fact that it did not have a built-in video player, and the list of videos it finds is so long that it could take a long time to find the one video you are looking for. Now, not having a built-in video player is understandable. They wanted to keep the program down in size, so this is not really that big of an issue. However, if you are looking for one video you watched online a week ago, it is going to take you forever to go through the list of videos it finds.
CONCLUSION AND DOWNLOAD LINK
Overall, I really enjoyed using the program despite a few setbacks. If you are looking for a program that can locate all of the videos you have watched online, this is the program for you. Just don't expect to find certain videos very quickly, because it generates a long list. However, it is a great program indeed.
Price: Free
Version reviewed: 2.45MB
Supported OS: Windows XP / Vista / 2008 / 7
Download size: 88KB
VirusTotal malware scan results: 0/46
Is it portable? Yes
Related Posts