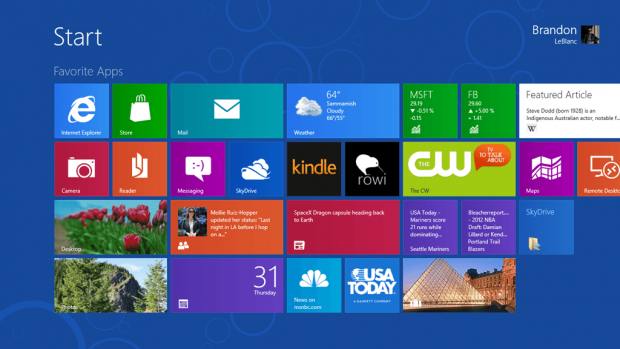 When Windows 8 first released, many problems with it stemmed from the simple fact that people were just not used to it. It's hard to blame them when so much has changed. Even usability experts agree that it's a mess. But according to data that Microsoft has been automatically collecting, users are starting to adjust the new operating system's more "controversial problems."
The data comes from users that choose to join the company's "Customer Experience Improvement Program," which is presented when you first log into the new operating system. All the data that is being sent to Microsoft if you choose to participate is anonymized, so privacy worrywarts can rest easy. Julie Larson-Green, who is the new head of Windows, is optimistic of the data they're receiving. She says that they're seeing very encouraging things  and adds that "Even with the rumblings, we feel confident that it's a moment in time more than an actual problem."
One of the more potentially confusing aspects of Windows 8 is the fact that there are essentially two desktop environments. One of which is the traditional desktop that we all know and love, and the other is the more touch-optimized Start Screen, which Microsoft has been heavily pushing as the new way to interact with Windows. Larson-Green says that 90 percent of users only need one session to discover the most crucial parts of the new interface, the Start Screen and "Charms." The Charms menu is a context-based side menu that provides access to shortcuts that pertain to the current application in focus.
There is always a period where a user needs to adapt to something that is radically different from what came before it, no matter how intuitive it is. "Two days to two weeks is what we used to say in Office, and it's similar in Windows 8."
How long did it take you to adjust to Windows 8? Two days to two weeks or no time at all? Let us know in the comments!
[via MIT Technology Review]
Related Posts