Sitegeist is a unique app designed to give you information and data about what is going on around you. This app is great for people who are constantly traveling and visiting new places. It is also great for those who just like knowing a little more about the areas they live in.
What is it and what does it do
Main Functionality
This app is designed to display publicly available information to you based on your current location. It will work with any location on a map as well as your specific one.
Pros
Uses data from official Census
Information on people demographics
Information on local housing
Find popular spots
View local weather
Cons
Only works in the United States
Cannot display data for all locations
Discussion
Sitegeist is a unique app that displays information which most people don't get to see very often. You can set it to use your current location, or you can pick a specific location anywhere in the United States. Once you have your desired location, the app will select a 1-mile radius around that location and display all sorts of data for it. The majority of this data is provided by the official Census, so it may be somewhat out of date depending on when you look at it. The Census provides access to people demographics such as average age, political association, and average income. It will also give you helpful graphs to visualize the information.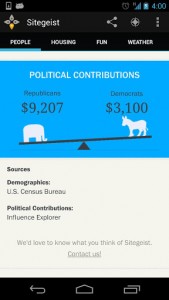 The app will also display more specific information such as children and transportation statistics. This can be useful when determining how much traffic a place will have or how busy a certain place will be. You can even view gender and housing information. The housing information will include average cost and rent of the area along with what percentage of those rent their habitats. Sitegeist can also display nearby attractions and provide information via Foursquare and Yelp. If all that isn't enough, it will also provide you with weather information and historical data.
Unfortunately, Sitegeist is only available in the United States. This may seem like an  inconvenience, but it actually makes sense. The data is collected using the United States Census. Which means there is no way to get information on other countries unless the developers use their Censuses as well. While that may not be a big deal, the app has some trouble identifying small towns that are located in the United States. This is probably just due to some minor bugs and will probably be fixed in the future.
Conclusion and download link
Overall, this app is really fantastic as it provides information that is generally unknown to the public. While all of the information is publicly available and by no means difficult to view, having it at such easy access make it incredibly convenient. Having this information available to you no matter where you are in the United States is without a doubt a great luxury
Price: Free
Version reviewed: 1.1
Requires: Android 2.2 and up
Download size: 1mb
Sitegeist on Play Store
Related Posts