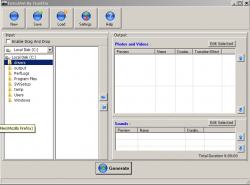 There are a ton of different video editors and video converters on the market today. With so many to choose from, it is hard to find the right one. Every time I turn around, there is another one released. This time, I came across Foto2Avi. I have heard of a lot of converters before, but this was never one of them. So, is this program worth the download? Let's find out!
WHAT IS IT AND WHAT DOES IT DO
Main Functionality
Foto2Avi is a free program photo and video converter. On top of being a video converter that can change file types to AVI, MPEG and FLV, it is also a video editor. The program allows you to add special effects to your videos and photos like transitions, ripples and animated subtitle logos. On top of that, you can make different basic changes like adjusting the brightness and noise.
Pros
Can convert both videos and photos to AVI, MKV, MP4, MPEG and FLV
The program can also be used as basic video editor
When pictures are created into videos, they come out as slideshows in which you can adjust how the program transitions from one picture to the next
You can cut and join videos together
Can generate High Definition Videos, with quality very similar to Blu-ray (depends on video source)
Allows you to add in your own subtitles
Cons
With so many different features, it can take a while to fully understand how you can use this program.
Video converting features are limited to converting to AVI, MKV, MP4, MPEG, and FLV only.
Discussion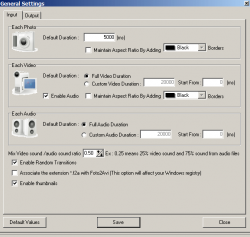 Let me just start off by saying that Foto2Avi is a good program. I did not expect to get as much out of it as what I did. I expected to get your everyday, run-of-the-mill video converter. However, what I ended up with was a program that could do all that and then some.
Before we get into the editing, let's touch on the basics. The program is able to convert movie files. Unfortunately, it is not able to convert to a lot of different video types. However, you can convert to popular ones like AVI, MKV, MP4, MPEG and FLV. You should be able to get most of these file types to work on whatever device you are trying to play movies on. The program also makes the claim of turning pictures into video files as well. This is supposed to work like a slideshow. As I did not have time to fully play around with this feature, I am not sure how well it works. However, I do assume that it works as well as converting videos.
One of the coolest things about the video converter was the special video effects you could use. Unlike with other video converters, you can actually add some light video effects to your videos. Some of the effects they give you (which I assume can be used on pictures too) included: Transitions (like Swirl and Flip page), the ability to adjust brightness and noise, advanced effects (like distortion and ripples), animations, and add in logos and subtitles. This does not seem like much at first, but each effect is pretty customizable. This is where they get the idea that the program offers thousands of effects. I guess technically this is true, but getting your effects to do what you want them to might be easier said than done.
As far as sound goes, the program does support Dolby Surround Sound 5.1, both as an input and an output. Foto2Avi also lets you do a little editing to audio tracks, but it is nothing mind-blowing. You can trim audio and video streams with precision. The sounds that you do edit can be synchronized with videos as well.
CONCLUSION AND DOWNLOAD LINK
In short, it looks like Foto2Avi would be the perfect little free workshop for YouTube video makers. It has a lot to offer if you are willing to be creative with it. I do feel like it is a program that you will be able to enjoy more with the more time you spend with it. Even with the limited amount of time I spent with the program, I can see that it wis a pretty worthy addition to your growing list of converters.
Price: Free
Version reviewed: 4.2
Supported OS: Windows Vista / 7
Download size: 17.5MB
VirusTotal malware scan results: 0/44
Is it portable? No
Related Posts