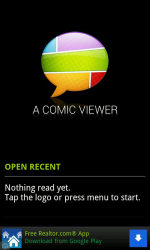 There are tons of different programs you can use on your computer to view pictures, manga and comics, but what about on your Android device? Truth be told, there are a few different ones to choose from. One of them is A Comic Viewer. This is a very lightweight program that was originally known as Droid Comic Viewer. Just as the name suggests, the program allows you to view images, comics and manga right on your hand-held device.
WHAT IS IT AND WHAT DOES IT DO
Main Functionality
A Comic Viewer is a program that allows you to view images, comics and manga right on your Android device. It supports many different file types and can even read files right off your SD card. On top of that, this is a program that is still receiving support, so it continues to grow.
Pros
View images, comics and manga right on your Android device
Can read CBZ, ZIP, ACV, RAR, CBR, JPEG, PNG and BMP
Can read all of the images in a folder with a log tap
Reads files right from your SD card
Supports both right-to-left and left-to-right reading (perfect for people who enjoy both comics and manga)
Touchscreen can be used to zoom, scroll and navigate
The next and previous screens are put into a cache for quicker loading
A Comic Viewer Community is a forum where you can ask for requests and support
Cons
Ad supported unless you buy the premium version
Discussion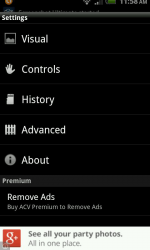 I have used a lot of "comic" viewers on my Android device, but few of them have worked out as well as A Comic Viewer. The program can load up huge images quickly and supports both portrait and landscape reading. With all of the options available to you, it is perfect for both comic and manga reading, as well as just viewing pictures as a whole.
First, let's talk about the great features that A Comic Viewer offers. One thing that I love about it is the fact that it can read many different file types. The following file types are all supported: CBZ, ZIP, ACV, RAR, CBR, JPEG, PNG and BMP. Not only that, but you are able to read books from left-to-right or right-to-left. If you are into manga then you already know how great the option to read right-to-left is since many Japanese manga are set up in that fashion (translated or not).
The whole program can be easily controlled using the touchscreen. This means that you can zoom in and out, navigate and turn pages all with onscreen controls. Also, since it supports cache loading, both your previous page and your next page are already preloaded. This means you will not have to wait for the next page to load when you flip pages.
The only problem I had with A Comic Viewer was, of course, the fact that it was Ad-supported. If you want to support the program and get rid of the ads, you can upgrade to the premium version. However, the ads are hardly noticeable and don't show up while reading your actual comic. Really, upgrading to the premium version is just to help further development of the program.
CONCLUSION AND DOWNLOAD LINK
If you are looking for a great program that will allow you to read comics and manga on the go, then A Comic Viewer is for you. It is super lightweight and can read files off your SD card. Not only that, but the program may be able to replace some of your other image viewers if you want to free up some room on your Android device.
Price: Free
Version reviewed: 1.4.1.4
Requires: Android 1.6 and up
Download size: 673KB
Related Posts