Have you ever wanted to convert your Blu-ray and DVD discs in MKV videos? Well now you can with Leawo Blu-ray to MKV Converter. The program gives you the ability to rip and convert all of your Blu-ray and DVD discs into MKV videos for playback on other devices. Since the program can both rip and convert, it can easily replace multiple programs you may already have on your computer.
WHAT IS IT AND WHAT DOES IT DO
Main Functionality
Leawo Blu-ray to MKV Converter allows you to rip and convert your DVD and Blu-ray disks to MKV video with high quality. It can do this quickly and without errors. Not only that, but it can retain original subtitles and audio tracks for your reference. Before you convert, you can also enjoy a conveniently presented preview of your movie. You can even view the subtitles and audio tracks separately.
Pros
Convert your DVDs and Blu-rays into MKV
Allows you to retain your original subtitles and audio tracks
You can view previews of your videos before you convert
Bypasses DRM protection
Cons
Does not convert to video formats other than MKV
Cannot rip/copy DVDs/Blu-rays and store them in their original DVD/Blu-Ray format for loss-less reburning (if needed)
Cannot rip/copy to ISO
DRM bypassing capabilities is limited to "the latest MKB level and with AACS and BD+ protection" (Blu-ray) and "CSS protection" (DVD)
Price is very high for only being able to rip DVDs/Blu-Rays to MKV
Discussion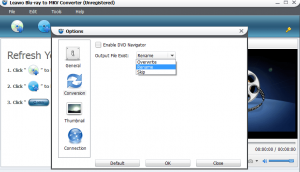 Everything is going digital: movies, games, etc. Having the physical copy of something is great, but it is easier to take it with you or to store it if it's all digital. That is why so many people are looking for easy ways to turn their Blu-ray and DVD collections into digital copies. This way, they can store their movies in a cloud and access them anywhere.
That being said, finding programs that can handle the task of converting both DVDs and Blu-rays is no easy task. That is where Leawo Blu-ray to MKV Converter comes in. The program can easily rip and convert both forms of media. Unfortunately, that is where the usefulness of this program ends.
Although it is able to convert both DVD and Blu-ray, it cannot convert to a lot of different file types. In fact, it is only able to convert these discs into MKV video format. Now this is not too bad since a lot of programs can play this video type. However, if you don't have a portable device that can play this type then it does you no good.
Besides that, the program is extremely easy to use. Regardless if you are used to using converters or not, you should have no problem using this one. In fact, it provides you with an easy-to-understand preview of the video that you are converting. This gives you a full proof way to ensure that you did not convert the wrong movie. In short, it gives you complete control over what you are doing, and that is extremely important.
CONCLUSION AND DOWNLOAD LINK
For the most part, I like the program. In fact, it does just what is says it is going to do. There are no surprises here. That being said, I feel there are better programs out there, because there are other rippers and converters that can do more than just convert to MKV. MKV is a popular format but there are other formats out there that people would love to convert to as well. Even if you only use MKV files, the $34.95 price tag is not worth it because in this same price you can get other fully-featured DVD/Blu-ray rippers.
For a freeware DVD/Blu-ray ripper, check out DVDFab HD Decrypter.
Price: $34.95
Version reviewed: 1.2.0.0
Supported OS: Windows XP / Vista / 7 / 8
Download size: 17.8
VirusTotal malware scan results: 0/40
Is it portable? No
Leawo Blu-ray to MKV Converter homepage
Related Posts