Numbeez is an incredibly unique application that will display infographics using numbers that are close and important to you. This app is great for those who like to get detailed information about their actions and habits. This app can be incredibly useful for those who like having visual representations to understand what is going on in their lives.
What is it and what does it do
Main Functionality
This app is designed to give you a visual representation of what is going on in your life. This will help you get informed and track the events in your life so you can constantly stay updated.
Pros
Track any aspect of your life that uses numbers
Create stories based on a specific aspect of your life
Explore commonly used stories
Cons
Data entry manual only
Too many promised features that have yet to be implemented
Discussion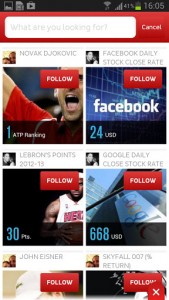 Numbeez is an incredibly useful and unique application that will display data in an attractive and elegant manner. Simply put, this app is designed to help you visualize numbers and data. The overall application is incredibly simple and doesn't have a whole lot of depth. Essentially, this app will visualize anything that can be represented with numbers. This can include stats about your exercise routine, how many wins your favorite sports team has, or even how much a specific stock is worth. These numbers are updated by you manually.
While this app is incredibly simple and really only aims to accomplish one task, the fact that you have to enter all of the data manually is pretty inconvenient. Ideally, there would be a way for the app to automatically update information that it has access to. Additionally, the developers list and promise all sorts of features that are "coming soon" on the Play Store. I find this to be incredibly distasteful for a developer because they should've have waited to release the app if all of the features weren't yet ready.
Conclusion and download link
Generally speaking, this app might be a little too simple in its current state. All it really does is display the numbers you enter visually. However, the developer promises features such as the ability to track any number on the web as well as the ability to do more sharing socially. There is no estimated time frame, but if those features were really close by, then the developer should have just waited to release the app. This leads me to believe that the developer was too eager to release the app and didn't want to take the time to fine tune everything. However, the app is incredibly unique and is showing some amazing potential.
Price: Free
Version reviewed: 0.9.1
Requires: Android 2.2 and up
Download size: 2mb
Numbeez on Play Store
Related Posts