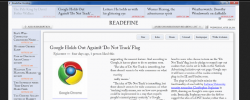 Google Reader is pretty popular. When it comes to RSS readers, most people like using it. However, the interface can sometimes leave a bit to be desired. What if you could use your Google Reader on your desktop and make it look better too? Well, this is possible if you use Readefine.
WHAT IS IT AND WHAT DOES IT DO
Main Functionality
Readefine is a program that allows you to read your Google Reader RSS feeds right on your desktop. However, it also makes them easy to read. The program can help you view multiple articles at the same time, and it even lets you put your articles in a magazine-style layout. In the end, you are left with a program that actually makes reading your RSS feeds easier.
Pros
Allows you to read your Google Reader feeds right on your desktop
Display all of your feeds in different formats, including magazine, newspaper and more
Supports keyboard shortcuts
Offers support for Twitter, Instapaper and ReadItLater
Pictures and videos will be resized to fit within the reading format you choose
Allows you to adjust the size of your text
Supports drag and drop RSS and HTML reading
Cons
Needs Adobe AIR runtime to work
Discussion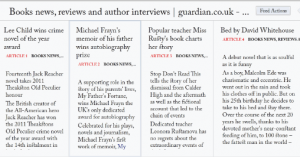 Are you looking for an easy way to read your RSS feeds on your desktop? If you are, then Readefine is a great choice for you. This is a program that will make your Google Reader feeds easier to read by allowing you to change the format.
One of the things I love about Readefine is the fact that you can actually change the format and style of the feeds that you're reading. So let's say that you prefer a newspaper layout. Readefine will display multiple feeds on your page so it feels like you are reading a newspaper that only caters to news that you care about. They also have an option for you to read your feeds in a magazine-like format.
Another cool feature about Readefine is the fact that it supports other services as well. The main reason people use this program is for Google Reader, but it also supports Twitter, Instapaper and ReadItLater. These are all very popular services, and it is nice to see them getting some support…although Twitter already gets plenty of support.
While there are a lot of options to adjust the text you are reading to fit your personal taste, there is one thing that I did not like about the program. In order to get it to work, you have to have Adobe AIR runtime on your computer. For those of you that already have it, you have nothing to worry about. However, if you didn't have it installed, like me, then that is just another program you have to download and install to get this one up and running.
CONCLUSION AND DOWNLOAD LINK
Overall, I feel that Readefine is a perfect program for those of you who love reading your RSS feeds. Being able to display tons of information on your desktop in any format that you want is reason enough to give this program a try. It is annoying that you need to have Adobe AIR runtime to use this program, but this is a pretty minor setback in the grand scope of things.
Price: Free
Version reviewed: 2.49
Supported OS: Windows XP / Vista / 7
Download size: 1.3MB
VirusTotal malware scan results: 0/46
Is it portable? No
Related Posts